Presidential Speaker Siddharth Kara Brings Modern Slavery into Focus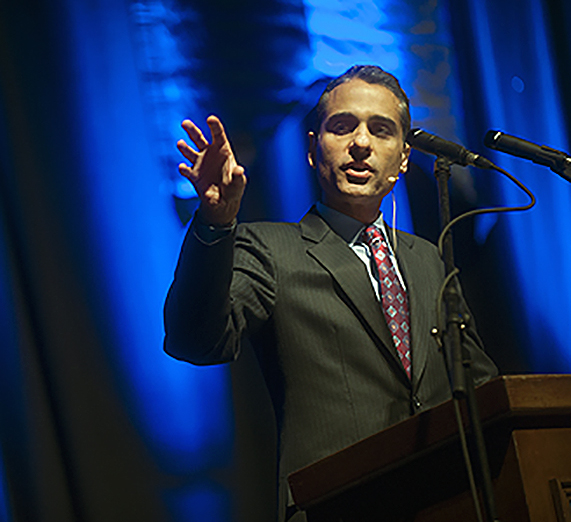 ---
Gonzaga News Service
SPOKANE, Wash. — Siddharth Kara, author of "Sex Trafficking: Inside the Business of Modern Slavery," brought the curses of modern slavery into sharp focus at the McCarthey Athletic Center on April 1 when he delivered Gonzaga University's Presidential Speaker Series lecture to a rapt audience of more than 1,800.
Kara, whose eye-opening research on modern slavery includes documentation of 1,300 cases in 30 countries, shared the story of a 14-year-old girl, the first sex-trafficking slave he had ever met, who was brutalized daily by grown men in a Bombay brothel.
"She looked to me as if she were already dead. She was poor, illiterate and had lost all hope. In many ways she was the face of contemporary civilization's greatest shame, the failure to protect our children from brutal enslavement," said Kara, director of the Program on Human Trafficking and Modern Slavery at the Harvard Kennedy School of Government.
That encounter 14 years ago was among the pivotal experiences that Kara said convinced him to devote his life to combating modern slavery.
Kara shared the story of Maria, a young girl he met last summer who was persuaded to leave her home in Mexico to work cleaning office buildings in the United States. Instead, Maria said she wound up locked inside a makeshift brothel in San Diego where she was assaulted for two weeks.
"I tried to protest, but they would attack me until I was unconscious," Kara said, reading the girl's story. "After that they forced me to take customers after night. Sometimes only four or five men in a night and sometimes it was 20. They forced me to do unnatural things. The pimp would beat me if I didn't please the customers."
Maria's story is but one of the millions of voices of modern slavery — unspeakable horrors that make up part of the exploitation and barbarism being carried out with brutal efficiency in the era of global economy, he said.
These slaves suffer in the dark underbelly of globalization at the bottom of the supply chain, a class of human beings exploited in the name of profit, said Kara, whose book was the co-winner of the 2010 Frederick Douglass Award at Yale University for the best nonfiction title on slavery and is being developed as a feature film.
Kara said his own personal involvement with contemporary slavery started in a Bosnian refugee camp in 1995 as an undergraduate where he heard awful stories of human suffering and genocide.
"I was young at the time and didn't know how to process what I was hearing and experiencing," said Kara who holds a law degree from BBP Law School of London, an MBA from Columbia University, and a bachelor's degree from Duke University.
After finishing his education, he worked as an investment banker in New York and ran his own finance and consulting firm for several years before be began to study sex trafficking, which has taken him on a global journey where he has witnessed some of the most despicable and inhumane acts of human exploitation.
"I started to reflect at that point in my life what am I going to do with myself? How am I going to be most positive and useful to the world?" he said. "I reflected on the summer and thought to myself, 'Are these things still happening?'"
A visiting scientist on forced labor at the Harvard School of Public Health, and a regular contributor to the CNN Freedom Project: Ending Modern-Day Slavery, Kara said he decided to see if he could make a difference.
"I saw in front of me an immense global economic crime. It is fundamentally a violation of human rights, but at the end of the day these people are being exploited for profit and if I could understand that economics, model it, track it, trace it, maybe I could make an argument as to what we should do about it," he said.
Thus began his 14-year effort doing research, writing, publishing and advocating on the issues of slavery and human trafficking.
"Bonded Labor: Tackling the System of Slavery in South Asia" (2012), Kara's second book, offers the first comprehensive focus on the deeply entrenched and unjust system of debt bondage in South Asia. Based on 11 years of research in India, Nepal, Bangladesh, and Pakistan, Kara delves into an ancient and evolving form of slavery that ensnares roughly six out of every 10 slaves in the world and generates profits that topped $17.6 billion in 2011.
While slavery and human trafficking are centuries old, they are far more profitable and intimately and intricately woven into the global economy than ever before.
In concluding, Kara encouraged others to get involved.
"There's tremendous space for new leadership on this issue," he said. "The field is begging for leaders with the integrity and the discipline and the ethics to go out and do this work and contribute in whatever way works for you," he said, adding people must care enough to act in order for our world to be decent, sustainable and good.
"It is fundamentally in the shadows of inaction and apathy that atrocities are committed," he said. "My humble plea to all of you is we all find a way some way to be active and is to shine a light and contribute in whatever way you can for us and for them."