Students Learn from Economist Wolfers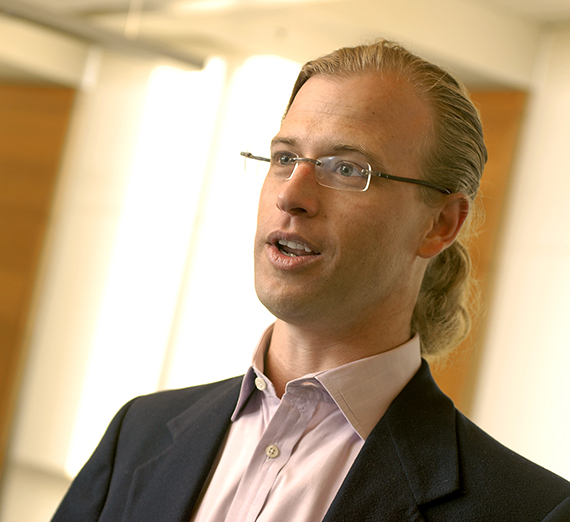 ---
By Peter Tormey
SPOKANE, Wash. — Gonzaga University students in Assistant Professor Erica Johnson's senior econometrics course were delighted to interact with leading economist Justin Wolfers, Senior Fellow of the Brookings Institution, who delivered a guest lecture April 8 and responded to their questions.
Wolfers spoke to the course shortly after delivering the 24th Economics Symposium and Luncheon at Gonzaga's McCarthey Athletic Center in which he discussed "From Dismal Science to Happy Science: Economics and Happiness." Senior economics major Josslyn Clews said Wolfers — who spoke to several other Gonzaga classes — provided great insight into econometrics.
Econometrics involves the application of statistical and mathematical theories to economics for the purpose of testing hypotheses and forecasting future trends. Before providing an overview for students of an academic paper he co-authored last year titled "Forecasting Elections: Voter Intentions versus Expectations," Wolfers provided some perspective about the study of econometrics, which students clearly appreciated.
"There's Greek letters, there's problem sets, it's not completely clear why we are doing any of it. There's words like 'interest elasticity' and 'multicollinearity' and, you know, why are we here?" said Wolfers, who is on leave from the University of Michigan as a professor of both economics and public policy.
Wolfers, who holds research positions from the National Bureau of Economic Research, the Institute for the Study of Labor, the Centre for Economic Policy Research, and the Kiel Institute for the World Economy, offered students insight on how the study of economics has changed recently and why it matters for their careers.
"I am motivated deeply by a belief that the tools that you're learning are about extracting meaning from the data and this is the job of the social scientist," he said, adding that we now live in a world where there exists a "tsunami" of data. Not long ago, he said, there was very little data and economists had to rely mostly on theory instead of trying to discern what a mountain of data meant.
"Instead, now literally everything we do is being measured. Whether you want to work for corporations or government, you'll be trying to extract meaning from big lumps of data. That you turn it into a narrative that's convincing is of real importance," he said.
Beyond research, Wolfers is a columnist for Bloomberg View, a blogger for Freakonomics, and a commentator for National Public Radio's "Marketplace" program. Time Magazine named his Twitter feed — @JustinWolfers — and that of partner Betsey Stevenson — @BetseyStevenson — among the top 140 Twitter feeds to follow for 2013.