GU Honors McCarthey Family with Ignatian Spirit Award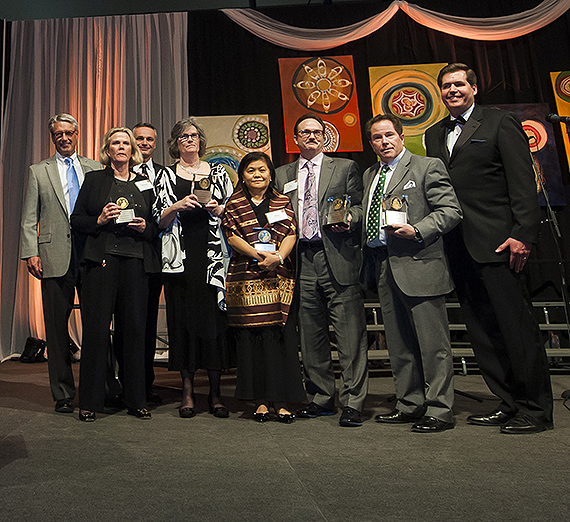 ---
Gonzaga News Service
SPOKANE, Wash. — Gonzaga University honored the McCarthey family with its Ignatian Spirit Award at the seventh annual Ignatian Gala at the McCarthey Athletic Center on April 10 for their transformative support of Gonzaga. In particular, Gonzaga recognized brothers Thomas K. McCarthey, Jr. and Philip G. McCarthey, of Salt Lake City, their sisters Sarah McCarthey, Champaign, Ill., and Maureen McCarthey, Newport Beach, Calif., and sister-in-law Ning McCarthey, Bellevue, Wash.
Thomas is a 1973 Gonzaga alumnus and attended the Gonzaga-in-Florence, Italy study abroad program ('69-'70); Philip ('74, '72-'73 GIF); Sarah ('75-'76 GIF); Maureen ('82, GIF '79-'80); and Ning, widow of Shaun who attended Gonzaga ('77). Gonzaga-in-Florence marks its 50th anniversary later this month with a grand celebration planned in Florence.
Gonzaga President Thayne McCulloh paid tribute to the McCartheys - whose lead gift was instrumental in building the McCarthey Athletic Center - for their extraordinary contributions as individuals who exemplify St. Ignatius of Loyola's call to be persons for others. Gonzaga previously honored Phil McCarthey, a Gonzaga Trustee, and Gonzaga Regent Tom McCarthey, presenting both with the Distinguished Alumni Merit Award in 2011.
President McCulloh also thanked the McCartheys for their leadership, which has helped Gonzaga set a course to ensure it will benefit generations of future students through scholarships and the 6,000-seat multipurpose arena that opened in 2004 and allowed Gonzaga to rise in prestige and national prominence both on the basketball court and in the classroom.
Phil and Sandy McCarthey established the Philip G. McCarthey Gonzaga-in-Florence Scholarship in 1993, which has since helped 96 students and awarded more than $105,000.
"Beyond these humbling benefits of this beautiful building and these scholarships that one-by-one change lives, this remarkable family has helped us to see ourselves differently. They have given Gonzaga confidence, courage, and leadership — all McCarthey family traits — that are forever interwoven into Gonzaga University," President McCulloh said. "Our award recipients told us to believe in ourselves - to see ourselves as a top 25 men's and women's basketball program — and we have accomplished both goals. The McCartheys knew this would require a more competitive facility and they stepped forward along with hundreds of others to build this facility — one of the toughest places in America for other teams to win. This is what inspired benefaction can do."
The McCarthey family has numerous ties to Gonzaga as alumni, members of boards, parents, and participants in Gonzaga-in-Florence to name a few connections.
"The McCarthey family has a great commitment to our Gonzaga-in-Florence program," President McCulloh said. "Thank you, McCartheys, for recognizing that access to opportunities like study abroad are expensive for our students — and that we want any interested student to be able to participate."
Gonzaga confers the Ignatian Spirit Award (established in 2008) each year to benefactors who have given generously of their time, talent and resources to advance the University. The McCarthey family embodies the spirit of St. Ignatius, founder of the Society of Jesus, whose service to others has inspired Jesuits for centuries.
More than 500 Gonzaga benefactors, including parents, friends, alumni, students and members of Gonzaga University Jesuit Community, attended the gala, which honored the more than 14,000 alumni, parents, friends, corporations and foundations who supported Gonzaga last year with nearly $22.1 million toward financial aid, scholarships and capital projects.