GU Once Again Ranks No. 1 for Alumni Serving in Peace Corps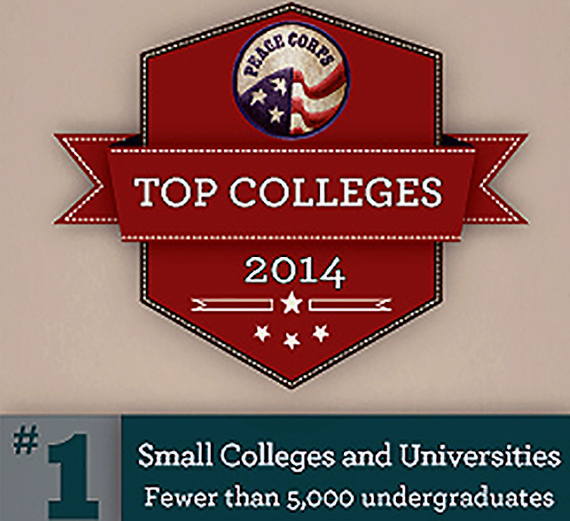 ---
Gonzaga News Service
SPOKANE, Wash. — For the second consecutive year, Gonzaga University has been named the top-ranked institution among "Small Colleges and Universities" in the nation with 22 undergraduate alumni serving overseas as Peace Corps volunteers in 18 countries worldwide, lifting Gonzaga's historical total to 320 alumni with Peace Corps service, the agency announced today.
Gonzaga President Thayne McCulloh said the back-to-back recognition represents a tribute to Gonzaga's enduring mission to produce enlightened, passionate graduates who seek to make a difference in the world.
"Today's announcement underscores the commitment of Gonzaga's graduates to work toward a world of peace, justice and greater understanding among people around the world," said President McCulloh. "Our graduates, like Kate Hewitt and so many others, are passionate about making a difference in our world. This recognition demonstrates that our tradition is one of transformation — both institutionally in educating people for others, and individually, as students and alumni carry their inspired missions into many career fields."
Hewitt, a 2013 alumna with a double major in political science and philosophy, says Gonzaga inspired her service as a community and organizational development advisor volunteer in Moldova.
"My initial goal for joining the Peace Corps was to help people, plain and simple," Hewitt said. "I have a passion for social justice and for human rights, which is part of what makes my placement of service and work so great. These passions have long been instilled in me, however, Gonzaga's mission of commitment to the dignity of all human beings, social justice, cross-cultural knowledge and respect, humility for the poor and vulnerable, and utmost care for the planet we live on was something that inspired and cultivated this passion every single day in my four years as an undergraduate."
Gonzaga, which has consistently ranked among the Peace Corps' Top Colleges, began its ascent to the top of the rankings in 2011 - rising four spots to No. 3 nationwide. In 2012, Gonzaga moved up to No. 2, tying its previous all-time high (set in 2008) before its first No. 1 ranking in 2013.
Gonzaga is among a select group of some 80 schools nationwide to offer a Master's International program in collaboration with the Peace Corps. In 2008 Gonzaga's Master of Arts in Teaching English as a Second Language (MA/TESL) program became a partner in the Peace Corps Master's International program.
When volunteers return home they bring knowledge and experiences that give them a competitive edge for jobs and advanced educational opportunities. They give back to their own communities and enrich the lives of those around them, helping to strengthen international ties and increase our country's global competitiveness.
The Peace Corps ranks the top volunteer-producing colleges and universities annually according to the size of the student body. Western Washington University is No. 1 on the Peace Corps 2014 Top Colleges rankings for "Medium Colleges and Universities" for the second year in a row. University of Wisconsin-Madison is the No. 1 for "Large Colleges and Universities."
President John F. Kennedy established the Peace Corps in 1961 to foster a better understanding among Americans and people of other countries. Since then, more than 215,000 Americans of all ages have served in 139 countries worldwide.