Course Boosts Students' Intercultural IQ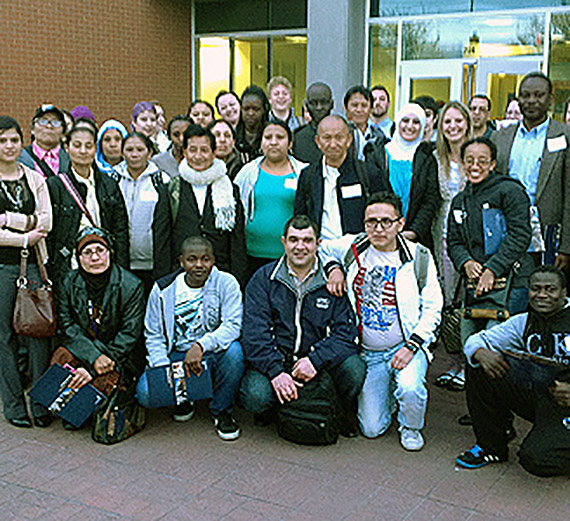 ---
Gonzaga News Service
SPOKANE, Wash. — Professor Jerri Shepard has developed a course to help Gonzaga University students better understand and appreciate people from a variety of cultural backgrounds. "Intercultural Competence Development" seeks to provide students with the knowledge and skills to interact more effectively with all people — especially those of cultures different from their own.
For the past two years, the course welcomed Spokane-area refugees, creating a dynamic real-life laboratory of learning for the students and displaced peoples who are newcomers to our community. Shepard's students delivered a series of presentations they developed about multiple aspects of college life in an effort to inform the refugees about possibilities presented by higher education and to reduce their fears.
In doing so, the students met the refugees and learned firsthand about the many challenges they face.
An associate professor of leadership and administration in Gonzaga's School of Education, Shepard originally partnered with Unity Multicultural Education Center to develop the course. The presentations for Refugee parents involved additional collaboration with the School of Education's Diversity and Social Justice Committee, World Relief Spokane, and the Spokane School District's English-as-a-Second-Language program.
All stakeholders were responsible for ensuring the needs of the refugee families were met. Interpreters were needed on both sides of the complicated communicative equation to negotiate the multiple languages. In the end, students and refugees alike learned more about themselves and others.
"It's scary for any parent to send their kids off to college, but in a new country and a new environment, it can be even more difficult," said Brenna Brown, who took the class last spring and graduated in May. "I was very surprised and really happy that so many of the parents decided to come see what college is about, even though they were probably terrified. I know I was when I was checking out colleges."
"A lot of them had the same worries about college life," said Alec Cutter, also a May graduate. "I think it was good for us to downplay a lot of those stereotypes and say, 'there's help for people. You're not completely on your own.' "
The class aligns with Gonzaga's mission as a Catholic and Jesuit institution seeking to educate women and men to be people for others, which requires an awareness of the differences of others and a desire to help the marginalized — wherever they may live.
Angel Nunez, a senior from Washington Heights, New York, found the class meaningful.
"I think it's important to become more aware of others," said Nunez, who plays on the Gonzaga men's basketball team. "It will help spread the Gonzaga mission — educating the mind, body and spirit."
Mark Kadel, director of World Relief Spokane, the only refugee resettlement agency in Spokane contracted by the U.S. Department of State, estimates the agency has resettled nearly 1,000 people in the following top four refugee groups since January 2012: Burma, Iraq, Bhutan and Sudan. The agency also helps people of many other ethnicities. The numbers are merely estimates, Kadel says, since some people migrate to Spokane after first being assigned to a different U.S. city, and others leave Spokane to join relatives in other U.S. cities.
Begun in 2012 as an experimental class, the course has received Gonzaga's full academic endorsement and is offered both fall and spring semesters.
"One goal of this class is to help people understand their own cultural identity and the cultural identity of others," Shepard said. "Another goal is to help students determine what strategies, techniques or interventions they would use in terms of interacting with others from differing cultural backgrounds."
Shepard hopes to further develop the course by adding a social justice component, which would allow students to take it for core curriculum credit. In addition, the course could possibly become a study-abroad offering.
"There are lots of possibilities for this course around the world, and in our own backyard," Shepard said.