Gonzaga Welcomes Four New Leaders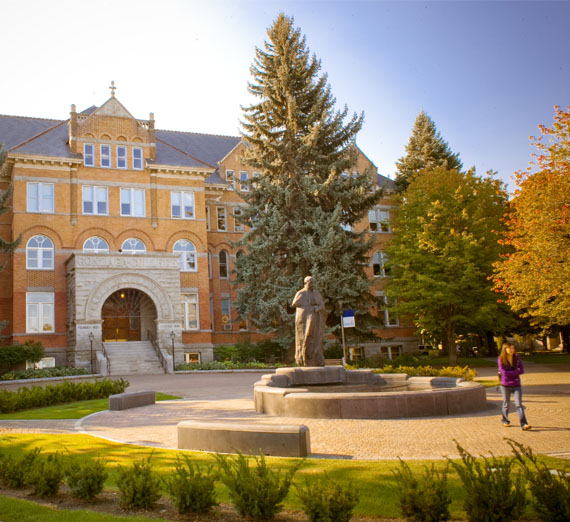 ---
Gonzaga News Service
SPOKANE, Wash. — Gonzaga welcomes four new leaders this fall: Judi Biggs Garbuio, vice president for student development; Brenda Stevenson Marshall, inaugural dean of the new School of Nursing and Human Physiology (SNHP); School of Education Dean Vincent C. Alfonso; and, Elisabeth Mermann-Jozwiak, dean of the College of Arts and Sciences.
Dean Marshall leads Gonzaga's first new school in nearly 40 years, underscoring the University's strong and enduring commitment to developing health professions in the Jesuit, Catholic tradition. The School of Nursing and Human Physiology aims to prepare more professional and specialized leaders in the rapidly evolving health care industry, and improve the quality of health and health care through education, research and engagement while advancing the cause of social justice.
Dean Marshall hails from The Richard Stockton College of New Jersey, where she served as a professor of public health, special assistant to the provost for health sciences, and founding dean of its School of Health Sciences. The recipient of many teaching and professional honors, her scholarly work focuses on health care management with emphasis on the preparation of clinicians and access to health services for vulnerable populations.
Dean Alfonso, who served for 19 years as a professor and top administrator in the Graduate School of Education at Fordham University in New York City, takes over for Jon Sunderland, dean since 2007. At Fordham, Alfonso directed the school psychology program, was executive director of two assessment centers, associate dean for six years and acting dean for a year. His scholarly work focuses on assessment and treatment of preschool children, psycho-educational assessment, among other areas.
"Gonzaga has a very good School of Education, so I am coming into a great situation," he said. "I'm here to help move the School of Education to an even higher level."
Dean Mermann-Jozwiak, the Haas Professor of English and associate dean of the College of Liberal Arts at Texas A&M University at Corpus Christi since 2005, leads Gonzaga's largest school – filling the post vacated in spring 2012 by Marc Manganaro, who became provost at Loyola University, New Orleans. Political science Professor Blaine Garvin served as interim dean of the College of Arts and Sciences this past academic year.
Her scholarly work focuses on ethnic American literature, critical theory, and transnational American studies. She has authored two books, and nearly 20 articles, chapters and book reviews. At Texas A&M, she received both the Excellence in Teaching Award (2004) and the Excellence in Service Award (2002) from the College of Arts and Humanities, as well as the university-wide Excellence in Teaching Award (2004).
Vice President Biggs Garbuio served as associate dean of students at University of Southern California before accepting the position to replace Sue Weitz, who held the position since 1983 and continues to serve Gonzaga as an advisor. Biggs Garbuio, who holds a 30-year record of successful professional experience, said she is pleased with the opportunity to combine student affairs with Jesuit ideals.
"I am excited to finally have an opportunity to integrate my passion for working with students and staff along with my strong student affairs background into a dynamic Jesuit learning environment," she said. The vice president for student development oversees most nonacademic student programs and services. Student life recently changed its name to the student development to better describe the focus and work of the division.