Rankings Roundup: GU Among Best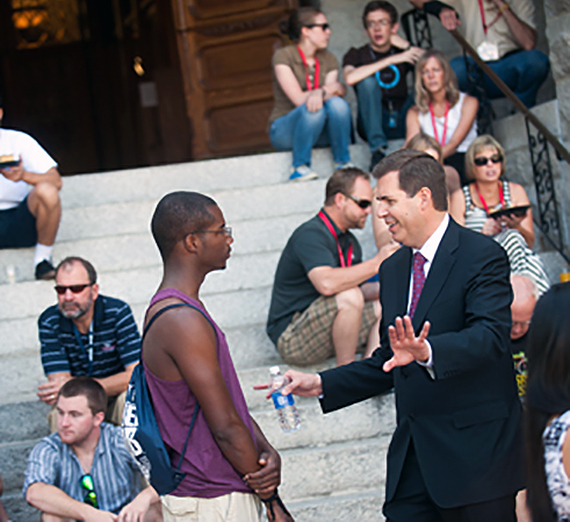 ---
Gonzaga News Service
SPOKANE, Wash. — In its annual college rankings, U.S. News & World Report rates Gonzaga the West's 4th best regional university and 3rd best value. Gonzaga ranks No. 2 in the West for its average freshmen retention rate and average graduation rate. Gonzaga's School of Engineering and Applied Science is the No. 22 best undergraduate engineering program nationwide in its category.
The publication rates Gonzaga the No. 3 best value among West regional universities based on the 2012-2013 net cost of attendance for a student who receives the average level of need-based financial aid.
Gonzaga's 92 percent average freshmen retention rate (for freshmen entering in fall 2008 through fall 2011 who returned the following year) tops all but five regional universities nationwide (and ties Cal Poly State University-San Luis Obispo). Gonzaga's 81 percent average graduation rate tops all but 10 regional universities nationwide. The graduation rate indicates the average proportion of a graduating class earning a degree in six years or less (for entering classes from 2003 through 2006).
This marks the 15th consecutive year Gonzaga has been ranked among the West's top four regional universities, and 19th straight year (26th in the past 29 years) it has been ranked among the West's best regional universities.
Gonzaga ranks fifth among the top 90 schools in its classification for alumni giving. Seventeen percent of living undergraduate alumni with bachelor's degrees from the Northwest's oldest Jesuit, Catholic university made contributions to Gonzaga in 2010-11 and 2011-12 — an indirect measure of student satisfaction.
Gonzaga's overall ranking is based on a host of indicators of academic excellence, including: peer assessment (22.5 percent); graduation and retention rates (22.5 percent); faculty resources (20 percent); student selectivity (12.5 percent); financial resources (10 percent); graduation rate performance (7.5 percent); and alumni giving (5 percent).
The Regional Universities classification includes 621 universities within four broad geographical regions — North, South, Midwest and West. Like national universities, regional universities offer a full range of undergraduate majors and master's programs and few (if any) doctoral programs.
Gonzaga's mission-focused care for the individual student is evidenced by its 11-to-1 student-to-faculty ratio (2012-13). Gonzaga also ranks high in the publication's measure of the academic quality of incoming freshmen. Seventy-three percent of Gonzaga freshmen that entered in fall 2012 ranked in the top 25 percent of their high school class. Four of the top six Regional Universities in the West are Jesuit institutions: Gonzaga, Santa Clara University, Loyola Marymount University, and Seattle University.
Following is a sampling of the other college rankings in which Gonzaga also appears:
For the first time, Gonzaga is among 336 U.S., Canadian and British colleges featured in the "Fiske Guide to Colleges"

(revised & updated for 2014). Compiled by Edward B. Fiske, former education editor for The New York Times, the Guide is known for accurately capturing the character of schools for 30 years.

Teach for America, in its annual ranking of the colleges and universities contributing the most graduating seniors to its teaching corps, ranks Gonzaga No. 18 among the nation's medium-sized colleges and universities. The list includes many of the nation's most selective and prestigious colleges.
Gonzaga is ranked among the 322 most environmentally responsible colleges in the United States and Canada, according to The Princeton Review's Guide to 322 Green Colleges.
Gonzaga appears in Princeton Review's "The Best 378 Colleges," (2014 Edition), No. 7 for "Everyone Plays Intramural Sports" and No. 19 for "Students Pack the Stadiums."
Washington Monthly ranks Gonzaga No. 28 among Top Master's Universities nationwide (public and private) based on contribution to the public good.
Gonzaga ranks No. 191 overall on Forbes' list of the best 650 colleges and universities in the nation.