GU-In-Turkey: Citizens Of A Complex World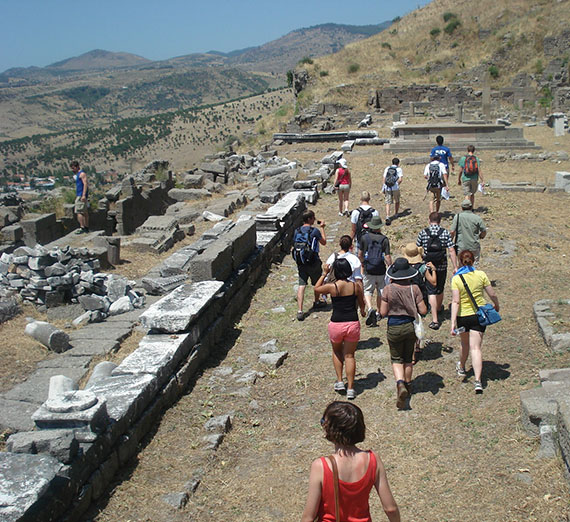 ---
They arrived as Americans and left as young citizens of a complex world.
LAST SUMMER, Gonzaga piloted an unusual study abroad program in Turkey. Seventeen students signed on for an academic adventure that crossed cultures, centuries and empires – drawing together three disciplines, classical civilizations, religious studies and broadcast studies. The program's official title was "Gonzaga-in-Turkey: Origins and Empires," but it could also have been called "10,000 Years in 30 Days."
The month-long program culminated years of dreaming.
Leading the students were Andrew Goldman, archeologist and associate professor of history; Father Steve Kuder, S.J., associate professor of religious studies, who taught a course on St. Paul and the early urban Christians; and Dan Garrity, the irrepressible director of Gonzaga's broadcast studies program, whose students developed short-form, quick-turn, narrative videos, posted on YouTube. (Just look for "The Turkish Zag Travel Show.")
Students not only soaked up the political, cultural and artistic accomplishments of ancient peoples such as the Greeks, Romans, early Christians, and Byzantines, but also immersed themselves in modern Turkey, its vibrant culture and charming people. They swam in the Aegean Sea and sweat in the Turkish sun. They traveled together, ate together, studied and had fun together. Their experiences changed them, as people and as young scholars.
The first lesson: Being there makes it real.
Book learning, as we know, offers a challenging way to absorb the complexities of humanity and history. But walking the sun-baked ground where emperors, poets and priestesses lived and died; exploring archeological digs, world-famous sites such as the city of Troy, and the aged yet contemporary streets, markets and museums of Istanbul; losing your way through an overgrown mountaintop ruin – especially when you are the professor? Experience triggers learning.
Gonzaga senior Brian Joyce, a classical civilizations major, reflects on his experiences:
"The greatest change in me occurred in the Grotto of St. Peter in Antioch, at the Patriarchate of the Orthodox Church which holds the bones of John Chrysostom, at Hieropolis where they recently discovered the tomb of St. Philip, at the House of Mary in Ephesus. In other words, the places changed me. We saw sites ranging from Neolithic (as early as 7400 B.C.) to Greco-Roman, to Byzantine, to modern cities. All of humanity's past and present melted into one stream of activity, culture, religion. You could see the progress, the advances in technology, the changes in human philosophy, in taboos, in the human mindset."
Joyce's continues: "When I read first and secondary sources which reference sites like Troy, Ephesus, Tarsus, Constantinople and Nicaea, I see these places in my mind. I remember the heat, the dust, the figs, the smells, the saltwater of the Aegean, the narrowness of the Hellespont."
Last fall, Joyce encountered a reference to the poet Sappho "and I recalled looking out at the Island of Lesbos – where Sappho lived. For me, these are no longer names in books, dots on maps. Instead, these places occupy actual space and exist in current time just as they did 2,600 years ago."
The second lesson: St. Paul preached here.
"On our first day in Istanbul" wrote Fr. Kuder in the Gonzaga-in-Turkey blog, "several of us are walking down the broad street from Taksim Square to the Golden Horn. Eyes right, and there in a window, flashing red: Revolution Revelation. Since I'll be teaching a course on St. Paul and the first urban Christians, I think, 'Wow! That sums up Paul's conversion.' This store-front art gallery has two banners in the window. One proclaims: 'If we don't break their rules, there will be no tomorrow!' That's Paul all over – as we're seeing letter by letter and Roman city by Roman city. And the other: 'Provoke your own illumination: set yourself on fire.' That's St. Ignatius of Loyola reminding us what Jesuit education is all about as it returns to Turkey after all these years."
Fr. Kuder lectures in the outdoor theater of Assos:
"I think about Paul. After his conversion, he has a new insight into things. He never ceases to be a Jew, I'm sure that never occurred to him. But he was going to the Gentiles and saw that Christianity was much more than just a sect of Judaism. The other side of Paul is – he's born in Tarsus, he's a city boy, he knows Greek, he knows this world he is moving into. I mean Central Casting couldn't have come up with a better character.
"He was a hiker, a great walker. In his lifetime, after his conversion," said Fr. Kuder, "we estimate that he went 10,000 miles. That's phenomenal. This is the footsteps of Paul, but it's also the footsteps of Christianity moving from a very rural countryside religion to a religion of the cities, and out into the Roman Empire. It's amazing – this is that first outward thrust, which in three centuries results in Christianity being not only a legal religion within the Roman empire, but the official religion."
The third lesson: New experiences and new friends make for personal growth.
"We traveled together with barely any time to ourselves," said senior Chastonie Chipman, an international studies major. "Even on our day off and in the evenings we hung out together. This trip deepened my love for people in general and for the Gonzaga campus." Chipman grew up in Germany, with 3 million Turkish immigrants. "I thought I knew the people and culture of Turkey," she said, "when in reality I had just the fraction of an idea. We never know another culture unless we have walked on their soil and tried to understand the world from their perspective."
History major and senior Charlie Nichols felt his attitude change this way: "Especially in Istanbul you will find Christians and Muslims, Europeans and Asians, and speakers of all sorts of languages coexisting. This was the stimulus for the greatest change I experienced on this trip, the question of where I fit in this. Turks focus on people as the experience. This absolutely changed the way I go about meeting new people, and how I view myself in new environments."
"Although I've been to Turkey nearly two dozen times," said Professor Goldman, "this experience was special. I had the tremendous good fortune to work with excellent colleagues, hard-working students and an amazing Turkish support team, led by Aydin Aygun (our Turkish Zag). Our goal was to provide an interdisciplinary field experience for Gonzaga students, and I'm very pleased with what we accomplished. I can't wait for 2014 and our next trip."
– Editor
Gonzaga is expanding its summer offerings in Turkey, with a month-long archaeological field school at Sinop, an ancient town on the Black Sea. Professor Andrew Goldman will lead the first small group of students to excavate at Sinop in summer 2014.