Trustees OK $60 Million University Center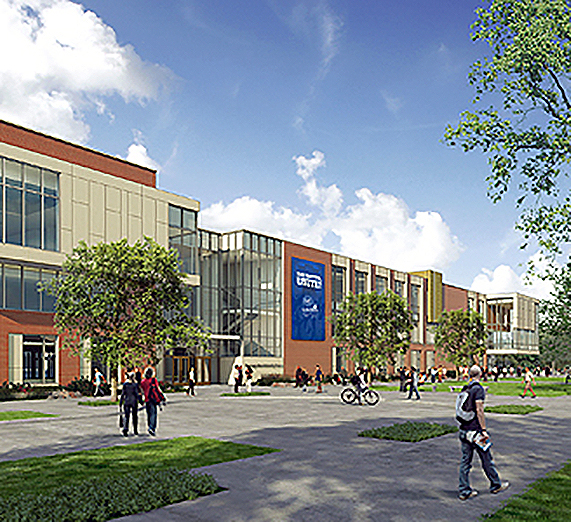 ---
Modern, Ecologically Sustainable Center
to Transform Campus and Student Experience
Gonzaga News Service
SPOKANE, Wash. — Gonzaga University, concluding its 125th anniversary celebration, has formally approved plans to build a new University Center. Construction on the 167,726-square-foot, three-story facility is scheduled to begin this July.
The new Center, currently in the final design phase, will be built on the site of the existing COG and its adjacent parking lot, and is expected to be complete summer 2015. The COG — an acronym derived from the original (contrived) Latin name of the building, "Circulus Omnium Gonzagaorum," or "Center of Gonzaga" — has served as Gonzaga's primary student center for nearly 60 years.
"Creating a cutting-edge, contemporary center for our students is an essential part of transferring the integrative, Jesuit and Catholic educational experience for which Gonzaga has become known," said President Thayne McCulloh. "As we look to the future, we understand what a transformational impact this facility will have for our campus. We are so grateful to the benefactors whose gifts will make this Center a reality."
The total cost is estimated at $60 million, making it the largest-value construction project in Gonzaga's history and one of the largest in the City of Spokane in the last decade. The University's goal is to fund the project through private contributions and fundraising efforts, which are expected to continue through 2015. Gonzaga's Board of Trustees formally approved the proposal in April.
Hoffman Construction, based in Portland, Ore., is the general contractor. Opsis Architecture, of Portland, is the lead design firm along with Bernardo-Wills Architects of Spokane. An estimated 1,000 local jobs will be added for on-site labor as well as approximately 500 regional jobs for off-site fabrication and administration.
The planned facility includes a two-level residential dining experience and several retail dining locations, as well as the new home of University Ministry, the Center for Global Engagement, and an 800-plus seat multipurpose ballroom. Some event facilities have been designed with community use in mind.
"The new University Center will provide students and the campus with a wonderful environment for collaboration and activities that will support their social, academic and spiritual growth," said Sue D. Weitz, vice president for Student Life at Gonzaga.
The facility will also house the new Center for Experiential Leadership, offices for student government, and a center to support the University's 100-plus student clubs and organizations. New headquarters for the Center for Community Action and Service Learning, Unity Multicultural Education Center, and space for non-traditional and Veteran student populations are also planned.
Plans are to demolish the COG this July. The 650-stall parking garage within the new Boone Avenue Retail Center (BARC), on the corner of Boone and Hamilton, is expected to incrementally open for use starting in mid-May. Student dining services will relocate to the BARC in mid-June until construction of the University Center is complete. The Zag Shop (campus bookstore) will permanently relocate to a 16,000-square-foot, ground-level space inside the BARC.
"This project is a game-changer for Gonzaga and its students," said Nathan Heinrichs, president of the Gonzaga Student Body Association. "Students were involved with the design, and it will provide so many more opportunities for them to interact and collaborate."
During a "Kiss Our COG Goodbye" event May 8, the campus community and media viewed renderings of the University Center and spoke with University leaders — as well as representatives from the design-build teams — about the project. President McCulloh and project lead Executive Vice President Marty Martin shared brief remarks.