Avista Corp. Establishes Engineering Scholarship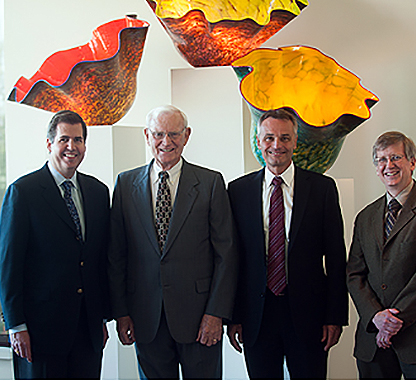 ---
(Above) Gonzaga President Thayne McCulloh; Paul Redmond; Avista Corp. Chairman, President and CEO Scott Morris; and Stephen Silliman, dean of the Gonzaga School of Engineering and Applied Science. Photo by Rajah Bose.
Gonzaga News Service
SPOKANE, Wash. — Avista Corp. has established the Paul A. Redmond Endowed Engineering Scholarship at Gonzaga University School of Engineering and Applied Science in honor of the leadership of former Washington Water Power/Avista Corp. Chairman, President and Chief Executive Officer Paul A. Redmond, a 1959 Gonzaga alumnus.
The fund, according to its purpose statement, seeks to honor the legacy of Redmond's leadership at Avista and to promote excellence in the field of engineering "such that scholars become innovators, problem-solvers and diverse, talented employees of our future."
Scholarships will be awarded to engineering students who are entering juniors and possess a minimum cumulative grade-point average of 3.0, with preference given to women and minority students, and to students with U.S. military experience — including active-duty military personnel, veterans and ROTC students.
Scott Morris, chairman, president and CEO of Avista Corp., said the honor recognizes Paul Redmond's considerable contributions to the company and to the entire Inland Northwest.
"We're pleased to honor Paul's legacy of leadership at WWP/Avista and to recognize the significant impacts he made in our community and our region," Morris said at a special appreciation reception for Redmond on May 8 at Gonzaga's Jundt Art Museum. "Creating an endowed scholarship at Paul's alma mater, Gonzaga University, seems a fitting way to help prepare the engineers of the future and bring his legacy to life for others for years to come."
Gonzaga President Thayne McCulloh singled out Redmond's leadership style that placed great value on an uncanny ability to bring people together.
"Whether developing a company, a city, a region or a whole industry, Paul Redmond consistently and creatively demonstrated the power that comes with bringing people together to work toward a greater goal," President McCulloh said. "This is why I am so pleased we have a scholarship that bears Paul Redmond's name so that all future recipients will come to know his name, his story, and the power of collaboration." President McCulloh also offered special thanks to Avista for its generous support of Gonzaga's 125th Anniversary Celebration; Avista and Washington Trust Bank were premier sponsors.
Stephen Silliman, dean of the School of Engineering and Applied Science, credited Redmond for building upon Gonzaga's historic partnership with Avista, a collaboration responsible for development of Gonzaga's Transmission and Distribution Program, establishment of the Avista Scholars program and creation of the Redmond Engineering Scholarship.
"The relationship that Avista has developed with Gonzaga University is an exciting model of how industry can partner with schools to create exceptional opportunities for students, faculty, industry, and the regions we serve," Silliman said. "It's fitting that this scholarship seeks to develop in our students those leadership skills important in the engineering profession and exemplified by Paul Redmond. It is also fitting that this scholarship provides a unique opportunity to build a more diverse engineering profession through focusing support on women, those with military experience, and others traditionally underrepresented in our engineering programs."
This is not the first endowed scholarship in Redmond's name at Gonzaga. In 2008, the Paul and Barbara Redmond Engineering and Nursing Endowed Scholarship was established; it funds one engineering and one nursing student annually.
Paul A. Redmond began his WWP/Avista career in 1965 as an assistant electrical engineer after earning undergraduate degrees from Gonzaga in electrical engineering and biology. In 1985, he was elected as Washington Water Power's chairman of the board, president, and CEO. Redmond served as a Gonzaga Regent from 1980-1991 and was honored in 1984 with Gonzaga's Distinguished Alumni Merit Award. He played a crucial role in the revitalization of downtown Spokane. Beneficiaries of his community leadership and civic involvement are too numerous to list but include service as: vice-chair of the Washington State Economic Development Board; chair, the Spokane Area Chamber of Commerce Board of Trustees; chair and president, United Way of Spokane County; president, the Spokane Lilac Festival Association; executive committee, Spokane Area Economic Development Council; chair, Washington Roundtable; board member, Catholic Family Services; chair, Fairchild Air Force Base Blue Ribbon Committee (1986-1990); chair, Washington Health Care Commission (1990) — among others.
Paul A. Redmond served in a multitude of corporate and industry leadership roles as well, including as chair of the Pacific Coast Gas Association, Itron, and the Pentzer Corp., and as a director on the boards of Hecla Mining Company, U.S. Bancorp, and Sacred Heart Medical Center, among many other entities. A retired lieutenant colonel in the Washington National Guard, he earned the Air Force Commendation Medal. A graduate of Gonzaga Preparatory School, Paul A. Redmond also is a member of the school's Hall of Fame.