GU Names New Facility in Honor of Donor John J. Hemmingson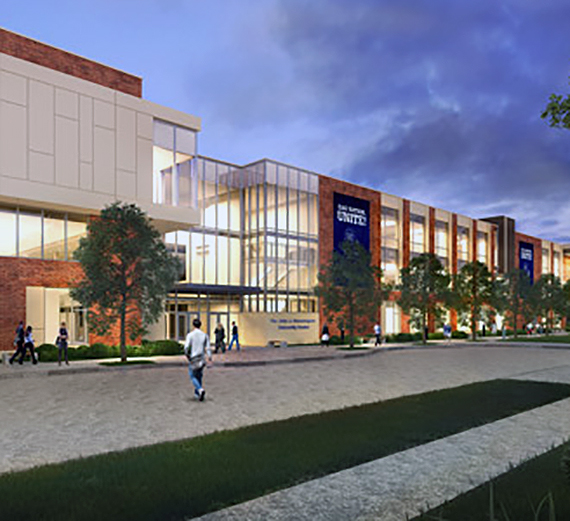 ---
Gonzaga News Service
SPOKANE, Wash. — Gonzaga University's transformational new University Center, under construction, will be named the John J. Hemmingson University Center to recognize lead donor and University Trustee John J. Hemmingson whose $25 million gift made this project, as well as related campus initiatives, possible.
The benefactor's support constitutes the largest single gift in Gonzaga's history and advances initiatives in other areas of the University, including the Foley Center Library and athletic programs. During the July 11 groundbreaking ceremony for the facility, a fire symbolizing innovation was lighted to launch construction of The Hemmingson, as the new facility will be informally referenced.
A Northwest entrepreneur, Hemmingson has worked and invested in education, insurance, real estate, technology, agriculture and other key industry sectors. A Montana native, he has lived in Post Falls, Idaho for more than 20 years. A committed community supporter, Hemmingson was a founding board member of The Rypien Foundation, and serves on the boards of the Boys and Girls Club of Spokane, Mobius, and Spokane Neighborhood Action Partners where he is vice-chair, among other civic service.
John Hemmingson has been an important voice on Gonzaga's Board of Trustees, encouraging the institution to continue delivering superb educational experiences for students while embracing opportunities to grow and infuse technology-rich education into its traditional Jesuit heritage, according to Fritz Wolff, board chair.
"It is an honor to be able to help contribute to the continued success of Gonzaga under the wonderful vision and leadership of President McCulloh," said Hemmingson, "Spokane and the entire Pacific Northwest benefit from the impact that Gonzaga has upon this region. As the University continues to rise in national prominence, it is the hope of Elena and me that this magnificent Center will become a new gathering place for all Zags. The Hemmingson is about Gonzaga, its incredible mission, and the support of students who will go out and make a difference in our world."