Boomtown Internships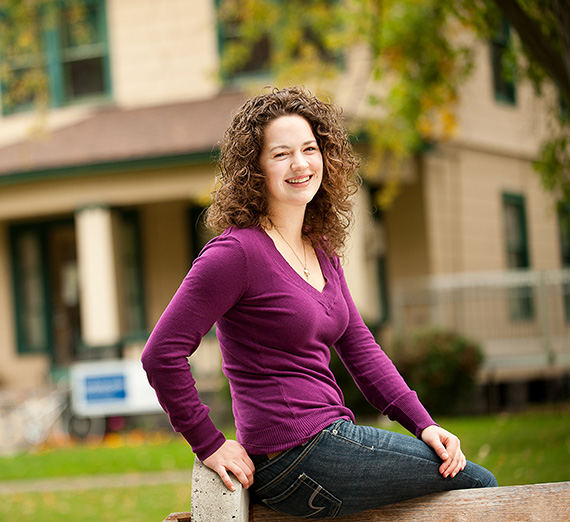 ---
Photos by Rajah Bose, Story By Lauren Campbell ('13)
When I took a job in Williston, N.D., I did some research. Every big-time media outlet seemed to have written a story about this town recently, and they all shared the same thesis: This place is dangerous and bizarre – the new Wild West. I pictured bar fights and being afraid to go anywhere alone.
I read that Williston is a small town that's been overrun by oil companies – the "black gold rush." A place where you can be homeless and making six figures, where the bars are dangerous and there is such a lack of women that the few females in town are constantly harassed. It was with more than a little fear that I got on a plane, headed from Denver to Williston.
That's all based in truth, but it misses the other part of the story. I realized quickly that those journalists come to town looking for the shock value, visiting man camps and strip clubs and breathlessly writing about how the McDonald's drive-through line takes over half an hour at lunch time. They stay for a week, and they write what people want to read. Along with 10 other Gonzaga students and recent grads, I came and I lived it.
I started applying for jobs last November, but in this economy no one will be surprised to hear I couldn't seem to find anything in my field. When I learned that Gonzaga's Career Center was arranging summer internships in Williston and all I had to do was send in a resume, I thought nothing of it. I wanted a full-time job, and I definitely didn't want to live in North Dakota – the nearest big city is Minneapolis, nine hours away, and Starbucks and Target are both a two-hour drive.
Graduation grew closer, and I learned not to be picky. I took a summer internship in Williston working for Williston Holding Company, a restaurant group that's just starting operations out here in Boomtown.
Last spring, Trustee Jim Powers ('79), who grew up in Williston, brought five other Gonzaga Trustees and Regents to Williston to see the level of growth and opportunity. He knew the depth of need for educated, capable young employees. Once Williston State College, the local two-year school, offered summertime housing – Powers' idea took off. He carried resumés door to door, cold-calling businesses and trying to convince them to hire summer interns, many of whom he had never met.
Eleven of us arrived in June and moved into our free dorm rooms. Research or not, we had little idea of what to expect. Many of the stereotypes are true. Some people move to Williston to follow the oil money and live in their cars or in tents. Thousands live in man camps, which are little more than barracks. They send money home to their families.
Out here, a bachelor's degree is kind of like a master's somewhere else: It's an achievement, not an expectation. Plus, with the influx of oil field workers, rent is so high that it's difficult for people to afford on a normal salary. As college students, with the backing of Jim and Gonzaga, we got the kinds of internships we couldn't have found somewhere else – doing work that elsewhere could have been handled by upper management. Abreu worked for an engineering firm that occasionally sent him into the field solo. Lilly Bruce ('13) wrote major grants for the college without ever working on a grant before.
Goode, now a senior, worked directly with the president of Mercy Medical Center, writing a business plan determining if it was feasible to move the inpatient ward of OB/GYN to the outpatient building for renovations.
"I learned about the resiliency of people who band together and get the job done," said Goode. "I learned about the complexities of running a hospital and how much more complicated running a business is than what you first see."
Charlie Nichols ('13) and I worked with fellow Zag Marcus Jundt ('87), who is founding a restaurant chain based in Williston. Jundt has roots in North Dakota; his grandparents are from a town not far from here. After graduating from Gonzaga he was highly successful in business, partnering in a number of concepts, including Kona Grill and Caribou Coffee. In recent years, with the nation's sluggish economy, he sought new opportunities. Williston was a natural choice. It's the fastest-growing city of its size in America. There aren't enough people to fill all the jobs, and there aren't enough restaurants to feed all the people. That's where Jundt and his Williston Holding Company came in.
In mid-2012, Jundt moved to Williston with a small group of former coworkers from Kona Grill. They planned to open one restaurant, the 12,000-square-foot Williston Brewing Company. As construction dragged on, they purchased two existing businesses in spring 2013 and opened a third restaurant in June. With the opening of WBC in September, the one restaurant they had planned on had turned into four within a year.
Money doesn't grow on trees here, but pretty close to it. Walmart pays $17.50 an hour. Until recently, McDonald's offered a $300 signing bonus. Unemployment hovers around 1 percent.
The infrastructure lags behind the population; according to Census data there are only about 15,000 people here – not enough for most big chains to set up operations. That's because a huge percentage of the population is here on a temporary basis, working in the oil fields for a few weeks at a time and then visiting their families all over the country. The real population is probably closer to 50,000, mostly men. Right now, on a Sunday afternoon, I'm in a coffee shop, a typically female hangout. Of the 15 customers here, three are women.
The lack of commercial infrastructure means it's a fantasy land for anyone, like Jundt, who wants to start a business. "If you differentiate yourself with ideas and concepts or work ethic – or something – it's gonna be a special place," Powers said. When you drive in, it doesn't look special at all. The town is bisected by Highway 2, which is packed with trucks and semis spewing dust. The street is lined with fast food joints, motels and gas stations that look as if they saw their best days at least 20 years ago.
The money is here, but few local people are willing to invest, because they've been spurned before.
The last oil boom in the Bakken – that's the name of the oil formation in this region – was in the 1980s, and there was one before that in the '50s. Both times, workers and money flooded in to Williston creating a boom in construction, and then left overnight, leaving the community struggling. This boom is already bigger than those, and is predicted to last longer. Locals still fear that it will disappear and leave them with empty houses and failing businesses.
Nichols, my co-worker at the Williston Holding Company, knows more about these stresses than the rest of us. He spent summers in Williston growing up. His grandmother, Kathleen Hagan has lived here for 50 years and remembers the last two oil booms. Williston's Hagan Elementary School is named for Charlie's grandfather, Bud Hagan, a highly respected doctor. A passel of Hagans have attended Gonzaga. His grandmother's home is outside town on a prairie across from the hospital. "The way Williston is expanding," Charlie said, "she will most likely be in the middle of a lot of westward development which is already taking place."
Charlie's grandmother and his mom, Anne Nichols, who was visiting from Billings, Mont., laugh about the craziness of driving around Williston amid the always-shifting road construction. "We just wanted to get home," Anne said. The women shake their heads over the fact that, as locals, they are in such a minority. This summer, Charlie said, 150 new people arrived in Williston every day, on average.
The oil boom here is seen as a huge opportunity for the town. Environmental concerns that might attract attention elsewhere are seen here as secondary to the massive economic boost oil gives to this community.
The economic boom led to great opportunities for us, but there was also a lot of pressure riding on the dozen interns.
"You're representing Gonzaga, and Jim Powers put his word out to set everything up," said Goode, "so there was this feeling of nervousness. You had to give 110 percent because you were representing so much more than yourself. These people had never been to Gonzaga. They've seen the basketball but they've never experienced what it is to be a Zag. What you do here will forever be what Gonzaga stands for."
Williston State College President Ray Nadolny saw the same thing, but from the flip side: "The Gonzaga interns provided the kind of talent that we need – highly skilled, talented, autonomous students who can come in and fill a critical need," he said. "And because the students came from Gonzaga, that actually provided an endorsement to a community under stress."
Next summer, Powers hopes to bring in another cohort of interns. For now, three 2013 grads are here full-time: myself, with the startup job I couldn't find anywhere but "here"; Victoria Ledesma, following adventure and better wages than she found in Walla Walla, Wash.; and Dylan Schwarz, a wire line engineer for Baker-Hughes. None of us expected to be here, but it's starting to feel a little bit like home.
Powers has taken a personal interest in our success, helping me to find an affordable apartment and always taking the time to have dinner with us when he's in town. Here's how he sees the Zags' summer in Boomtown: "All the students should have had one nice thing in common – an experience in an environment unequal to anything they have ever seen. You can do it all in Williston, everything the Jesuits want – I think. You can have a good job, make money, pay taxes, give back and jump into the community to make it better. Work and a pay check solve a lot of problems and create all kinds of opportunity."
Powers praises Williston's leaders for everything they did on our behalf – including having us over for dinner. "And if you are feeding big Matt Goode," he said, "that's not an easy project.
"My real thanks also go to the students," Powers said. "Think about it. Very few knew where Williston was. Very few knew each other. They all took a chance. Life is about taking chances."
He's right. We students took a chance on Williston. In return, everyone in Williston believed in us and gave us a chance to do something a little bigger than we could have done anywhere else.