Students Enjoy Q-and-A with Pulitzer Prize-Winning Journalist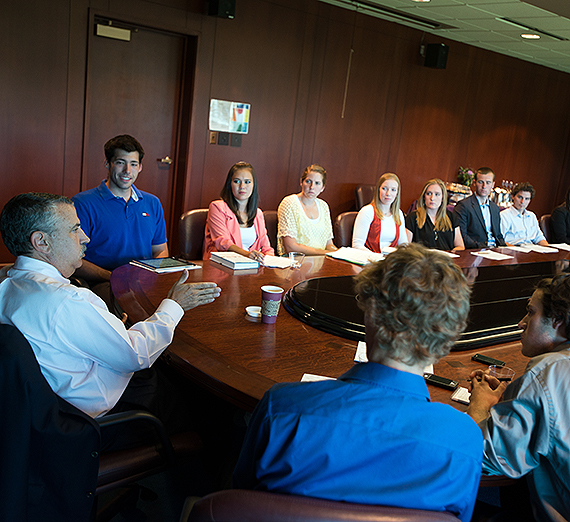 ---
By Peter Tormey
SPOKANE, Wash. — Some of Gonzaga's best and brightest students had the rare opportunity to engage in dialogue with three-time Pulitzer Prize-winning journalist and author Thomas L. Friedman on Sept. 4, prior to his Gonzaga Presidential Lecture Series address that evening at the McCarthey Athletic Center. The lecture was part of Gonzaga's yearlong 125th Anniversary Celebration. Friedman graciously fielded questions from a panel of selected students for more than an hour.
A staunch advocate of education, Friedman emphasized in his evening lecture the crucial responsibility education plays in helping our nation become more competitive globally. The lecture was titled, "That Used to Be Us: A Crucial Time for America and the Role Education Must Play."
In his Q-and-A session with students, the Oxford University-educated writer discussed the challenge of raising education standards in delivering STEM (Science, Technology, Engineering and Math) without sacrificing creativity. This is a challenge for teachers, schools and school districts that face increasingly strong pressure to improve educational outcomes.
Friedman said the topic reminded him of an interview he did with Bill Gates, a founder of Microsoft.
"He (Gates) said to me, which always really struck me, 'We don't have any software engineers at Microsoft who are not great at math and physics and calculus.' So, before you can be creative — especially if you're talking about STEM issues, whether it's biology, chemistry physics or what not — you really do have to have a good grounding in fundamentals. We should never lose sight of that."

Providing a rigorous foundation in STEM-related curricula and honoring creativity should not be viewed as mutually exclusive objectives, Friedman said, adding these twin objectives are being pursued at some of the nation's best schools — whether they be primary or secondary schools or universities. Higher education can achieve these objectives primarily in two ways, he said:
"One is to simply say, 'It's great that you want to major in math or science, computing or software-writing but it's really important that you take courses in music and art on theatre and literature," he said. "If you think about the greatest, Leonardo da Vinci, he was a painter, he was a mathematician, he was a writer. And he wasn't in a single silo; he was all those things, and each one actually nourished the other."
The liberal arts are crucial to a well-rounded education, he said.
"I've always been a big believer in the liberal arts," Friedman said. "Where does creativity come from? It's always an interesting question. I know, for me, I feel like I'm at my most creative, actually, when I'm taking my interest in globalization and applying it to the Arab-Israeli conflict. In other words, I'm taking two different specialties and mashing them up. Actually, what is the iPod? It's actually an MP3 player mashed up with an online music store, mashed up with a website. Actually, it's just a giant mash-up."
While STEM education is vital, an excellent education is the byproduct of a rigorous foundation complemented by the liberal arts. Gonzaga's core curriculum aims to achieve that very objective.
"You never want to diminish the importance of fundamentals but you always want to see: Can we build those fundamentals in ways that will strengthen other muscles," Friedman said.
Pioneering primatologist Dr. Jane Goodall will deliver the next Presidential Speaker Series presentation on April 9 (2013).