GU Graduates Embark on Fulbright Scholar Studies This Year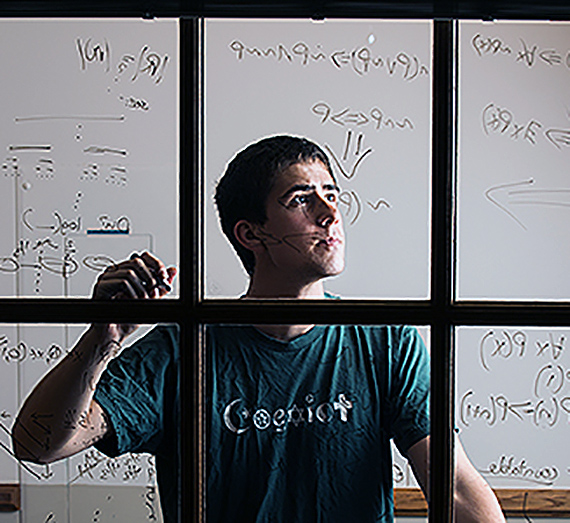 ---
By Brenna Greene
Class of 2014
SPOKANE, Wash. — Three recent Gonzaga graduates are beginning their studies abroad as the University's latest Fulbright Scholars. May graduates William Nalls, Ryan Bart, and Alex Maxwell ('08) earned the prestigious scholarships this past academic year.
Nalls, an honors student from Stevensville, Mont., was selected to research a mathematical philosophy field called finitism in its birthplace, Munich, Germany. Finitism, in essence, holds that only those entities that can be constructed in a finite number of steps may be admitted to mathematics.
Nalls says his project will explore the roots of doubt in mathematics and "explain why some people think various parts of math should be explained better before we take them for granted." Nalls studied in Munich as a junior through a Loyola Marymount University program in which he was honored for the best academic performance.
Maxwell, a civil engineering graduate from Kennebunkport, Maine, was selected to attend a three-year doctoral program at the University of Strathclyde in Glasgow, Scotland. Maxwell, who will study architecture with an emphasis on urban design in the developing world, said he is "most looking forward to the cultural exchange and is excited to be immersed in a new culture." This past school year, Maxwell taught as an adjunct professor in Gonzaga's School of Engineering and Applied Science and said he hopes "teaching will be somewhere in my future plans." Maxwell also has a special interest in Africa, having participated in Gonzaga projects involving Zambia, Benin and South Sudan.
Bart, a pre-medicine student from Samish Island, Wash., will help teach English as a Second Language at Universidad Colegio Mayor Cundinamarca in Bogota, Colombia. Bart said he knew after graduation that he wanted to live in another country before going to medical school. He hopes to learn about Colombia's health care system, since he hopes to perform medical work in developing countries in Latin America. In particular, Bart aims to get involved in naturopathic medicine when he returns to the United States. He also participates in volunteer work - performing magic and teaching it to children while in Colombia.
Gonzaga has produced 12 Fulbright Scholars in the past eight years. Their studies have taken them to Bulgaria, Canada, Colombia, France, Germany, Honduras, Korea, Scotland and Ukraine.
The Fulbright Program is the flagship international educational exchange initiative sponsored by the U.S. government, and is designed to increase mutual understanding among people worldwide. Scholars, who are chosen for their academic merit and leadership potential, have opportunities to study, teach, conduct research and collaborate to help find solutions to shared international concerns.