Freshman Class Most Diverse, among Most Outstanding Academically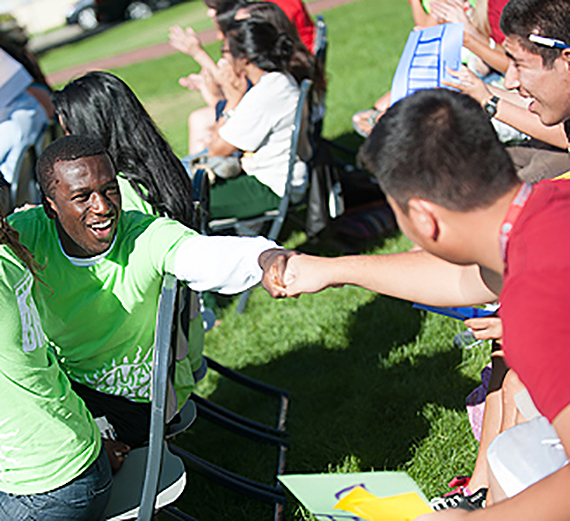 ---
By Peter Tormey
SPOKANE, Wash. — Gonzaga University's new freshman class brings one of the strongest academic profiles of any entering class in University history and is the most racially diverse ever with students of color representing 22.6 percent — nearly 1 in 4 — of the estimated 1,099 in the Class of 2016. Fall undergraduate classes at Gonzaga began Aug. 28.
Based on preliminary and unofficial estimates, Gonzaga's Class of 2016 has a 3.71 grade-point average and test scores of 27 (average ACT composite) and 1,193 (average SAT composite). Gonzaga has worked intentionally to moderate enrollment since the 1,240 students in the Class of 2013 entered three years ago, becoming the largest in school history. Gonzaga has reached its freshmen enrollment targets the last three years (1,120 freshmen in 2011 and 1,119 in 2010).
"This class is phenomenal," said Gonzaga's Dean of Admission Julie McCulloh. "The students' applications show great involvement in service, leadership, music and athletics as well as outdoor activities. Academically, the profile is as strong as the last four years, which have been Gonzaga's highest overall academic profiles. It is the most ethnically and racially diverse class Gonzaga has enrolled, becoming more reflective of the western region Gonzaga serves."
Intellectual and cultural diversity are intrinsic to Jesuit education, and Gonzaga has intentionally diversified the student body to better represent the world. Gonzaga's efforts to increase diversity have produced 19.6 percent students of color in the Class of 2015, 18.2 percent in the Class of 2014, and 19.5 percent in the Class of 2013.
Gonzaga's Class of 2016 includes two National Merit Scholarship Program Finalists — among only 1,300 such scholars nationwide. Analysis reveals 26 percent of Gonzaga's freshmen are first-generation college students. Gonzaga defines first-generation college students as those who do not have a parent with a bachelor's degree.
Demographically, the entering class includes 58 percent women and 42 percent men. Once again, the majority of new freshmen, 46.4 percent, hail from the state of Washington (47.6 percent in fall 2011). California remains Gonzaga's No. 2 most productive state for students with 20.1 percent of incoming freshmen from the Golden State (17.7 percent, 2011). Oregon is home to 9.6 percent of the class (12.2 percent, 2011) to rank third, while 5.5 percent are from Colorado (5.3 percent, 2011) to rank No. 4. With respect to religion, 54.1 percent of freshmen indicated they are Roman Catholic on their applications.
The new class is packed with leaders: eight students were student body presidents, 133 were class presidents or class officers, 471 participated in student government, and 597 took part in high school leadership activities. The class also includes 931 students with significant experience as volunteers, 142 who took part in speech or debate, and 947 students who competed in high school athletics or participated in outdoor activities.