GU Marks Tradition, Transformation in 125th Anniversary Celebration Week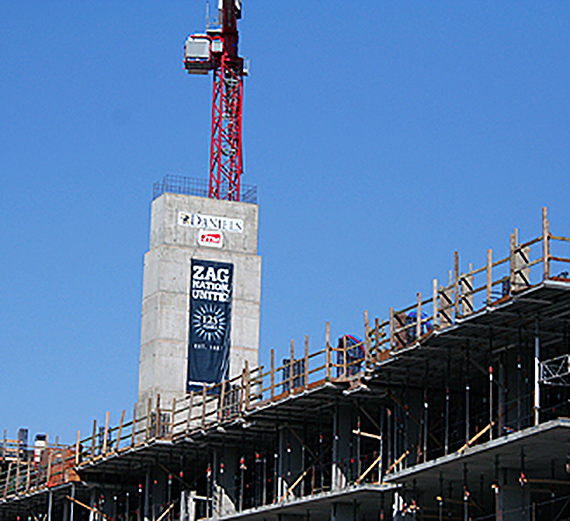 ---
By Brenna Greene
Class of 2014
SPOKANE, Wash. — On Sept. 17, 1887, Gonzaga College officially opened its doors to seven boys for the first day of classes. Now, 125 years later, Gonzaga has transformed to become a highly rated university with nearly 8,000 students. Excitement abounds as Gonzaga marks its "tradition and transformation" during the 125th Anniversary Celebration Week Sept. 12-20.
A host of traditional and special events are planned on- and off-campus to mark the occasion. In Seattle, Regent Kevin Daniels ('79) will post a highly visible symbol of the celebration — a four-story 125th Anniversary banner on his North Lot development project near the former Kingdome. Daniels, both a Gonzaga School of Business Administration alumnus (accounting) and the first president of the Seattle Alumni Chapter, said he learned the important lesson of giving back to the community from former Gonzaga President Rev. Bernard J. Coughlin, S.J.
"Bernie Coughlin always said, 'You have to give back for the next generation and pass down the gifts the previous generation gave you,' " Daniels recalls.
The annual Mass of the Holy Spirit on Sept. 12 launched the Anniversary Celebration Week on campus. One of Gonzaga's oldest traditions, the Mass brought the University Community together to pray for God's blessing for the academic year.
On Saturday (Sept. 15), some 250 members of the University Community and friends will take part in Gonzaga's 43rd annual Pilgrimage, an 11-mile trek from North Idaho's Enaville Resort to the historic Mission of the Sacred Heart in Cataldo, Idaho.
Monday, Sept. 17 will be a day to remember on campus when the entire University joins together to celebrate Gonzaga's Historic First Day of Classes. The day begins with a Leadership Breakfast hosted by President Thayne McCulloh for invited Gonzaga students, faculty, and staff as well as Spokane community leaders.
At noon Sept. 17, the Historic First Day Mass for students and employees takes place in the University Chapel.
From 4-7 p.m., Gonzaga hosts the Campus Celebration for students, employees and their families, featuring a food fair, video game truck, kids' zone, live entertainment and remarks from President McCulloh and Rev. Frank Case, S.J., Gonzaga's vice president of mission.
At 7 p.m. on Sept. 17, longtime political science Professor Blaine Garvin, interim dean of the College of Arts and Sciences, presents the Constitution Day Lecture. The lecture, which addresses both the 225th anniversary of the U.S. Constitution and Gonzaga's 125th anniversary, is free and open to the public.
Sept. 17 also marks the beginning of the Foley Center Library's exhibit, "Tradition and Transformation." The exhibit, which features artifacts, photos, and books showcasing Gonzaga's 125-year history, runs through Dec. 31 and is open to the public.
On Sept. 20, the Gonzaga University School of Law will officially launch its Centennial Kickoff with a lecture by best-selling author and attorney Scott Turow starting at 7 p.m. in Gonzaga's Martin Centre.