Act Six Marks 10-Year Anniversary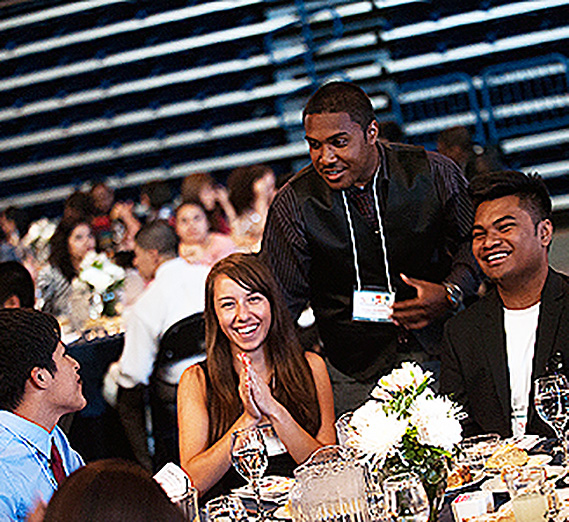 ---
Gonzaga News Service
SPOKANE, Wash. — Gonzaga University President Thayne McCulloh and Whitworth University President Beck Taylor offered remarks at the start of the 10th anniversary convention of the Act Six Leadership and Scholarship Initiative held Aug. 1 at Gonzaga.
Nearly 300 Act Six scholars, alumni, staff and supporters from Portland, Ore., Tacoma, Seattle, and Spokane gathered for the four-day event, hosted by Act Six, Gonzaga and Whitworth, and sponsored by 7-Eleven, Group Health and REI. Launched in 2002 by the Tacoma-based Northwest Leadership Foundation in partnership with Whitworth, Act Six has been supporting and developing underrepresented urban leaders to be agents of positive transformation on their college campuses and in their home communities for the past decade.
The program has expanded to Portland, Seattle, Spokane and the Yakima Valley, and now collaborates with Gonzaga, Whitworth, George Fox University, Warner Pacific College, Pacific Lutheran University, Northwest University, Trinity Lutheran College, and Heritage University.
Act Six scholars represent six continents and speak more than 30 languages. Eighty-eight percent of the 318 scholars selected for the program have graduated or are still enrolled - reflecting graduation and retention rates that far exceed national averages for low-income, first-generation students and students of color.
Act Six scholars have been elected student body president three times in the past six years and Act Six scholars on all eight campuses have been involved in numerous and significant leadership roles both on and off campus.
"Our scholars are having a profound impact through their leadership on campus, and as they graduate they are making a powerful and positive mark in their communities," says Tim Herron, Act Six founder and president of Degrees of Change, which houses the Act Six central office.
The convention's kick-off dinner banquet also included a video message from Washington Gov. Chris Gregoire (a Gonzaga University School of Law alumna), and keynote addresses from the following Act Six alumni:
Danjuma Quarless, an alumnus from Whitworth's fourth Act Six cadre, is working on his doctoral degree in the Biomedical Sciences program at University of California, San Diego.
Sandra Lopez, a sophomore in George Fox's fifth Act Six cadre, was an integral part of launching a dance team at George Fox and was chosen to participate in an exclusive Latino and Friends Network mentoring program at Nike's World Headquarters.
Crystal Ben, former Tacoma-Seattle site director, is beginning a doctoral program in sociology at University of California, San Diego, where she will focus on the urban American Indian population, social inequalities, culture, education, race, and ethnicity.
The convention continued Aug. 2-4 at Whitworth with a range of workshops and other activities, including a career fair.