GU Receives $1.2 Million for Science Education, Research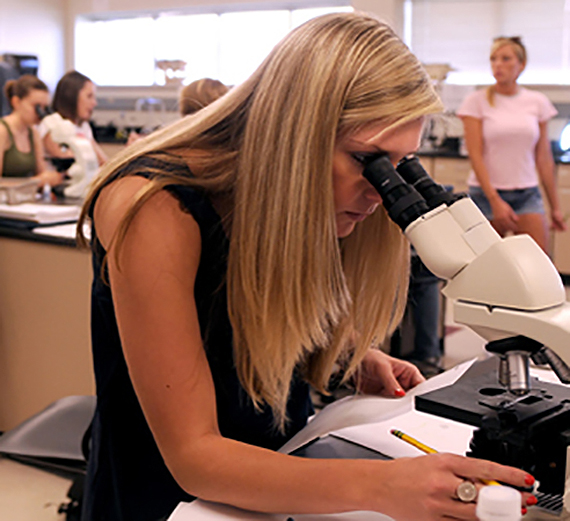 ---
Gonzaga News Service
SPOKANE, Wash. — Gonzaga University will receive a $1.2 million grant from the Howard Hughes Medical Institute that will allow its science faculty to better develop students as socially responsible leaders in science, research, and medicine. The grant is part of more than $50 million HHMI awarded to 47 small colleges and universities, HHMI announced.
"Our objective with this new grant is to more intentionally develop Gonzaga students to become socially responsible leaders in science, research and medicine. This fits well with HHMI's Undergraduate Science Education program and aligns directly with the distinctive mission of Gonzaga University to develop men and women leaders in service to others," said Gonzaga biology Professor Nancy Staub, program director for the HHMI grant. "We are thrilled because getting a second HHMI grant is not automatic. HHMI saw that we are truly committed to building our program to do what's best for our students. We are designing programs to meet challenges head-on and aren't afraid to go where no program has gone before. For example, to ensure that all of our students experience the creativity and excitement of scientific discovery, all students in our introductory biology class (approximately 360 students per year) will now take a research-based lab as freshmen."
The award is Gonzaga's second major HHMI grant. In 2008, Gonzaga was among 48 of the nation's best undergraduate institutions to share $60 million from HHMI to help usher in a new era of science education in the United States. Gonzaga's 2008 HHMI grant for $1.2 million has been "transformative" for the Jesuit, Catholic university's already successful science programs and has more than doubled research opportunities for undergraduates, Professor Staub said. Before the 2008 HHMI grant, independent student research in biology and chemistry occurred mainly in the summer, supported primarily by the M.J. Murdock Charitable Trust and research grants to individual faculty. While the 2008 HHMI grant expires in August, the new grant begins in September.
Professor Staub and her science faculty colleagues have developed several interconnected goals within the HHMI objective, including development of a more diverse group of science majors with a deep understanding of their disciplines, extensive research experience, experience communicating science to peers and the public, and practice in applying their scientific knowledge to societal challenges.
One new initiative, called the Gonzaga Science Scholars Program, aims to increase diversity among science students. Five Gonzaga Science Scholars will start their biology studies in fall 2012. Based on successful diversity initiatives at University of California at Berkeley, the program will use a cohort model, significant peer and faculty mentoring, teaching assistantships and independent research experiences to increase diversity in the sciences. Gonzaga has agreed to support this initiative with $20,000 in scholarships each year. While Gonzaga wasn't required to provide matching funds for this grant, Staub noted that this sort of administrative support for innovative science programs demonstrates to HHMI that Gonzaga is committed to transformative educational practices, and thus makes a good partner with which to improve science education for all.
The grant allows the University to build on its already strong undergraduate research program by placing students in research positions at other institutions to expand the number and type of students' opportunities. This program also serves to expose students to research at major universities and at medical research labs.
Gonzaga plans significant changes to its biology and chemistry curricula to make them more inclusive and more reflective of modern understandings of content and teaching effectiveness. "This will include teaching material in context within conceptual, integrative courses, using active learning techniques," said Joann Waite, director of Gonzaga's sponsored research and programs, adding that authentic research experiences will be added to introductory labs.
"We also plan to improve scientific understanding and literacy in the general public by engaging high-need K-12 students in scientific inquiry," Waite said. Forty-seven students took part in Gonzaga's science education outreach programs during the 2011-12 academic year, primarily through its Science in Action! program. Science in Action! places science majors and pre-service teachers in K-6 classrooms to guide inquiry-based science labs based on the Washington state science curriculum.
"That's a lot of science education taking place in our community due to the efforts of our students," Staub said, adding the University has received approximately 50 applications for its summer-research program for five high school students. This program, which Gonzaga has been piloting, places high school students, primarily from nearby Indian reservations, in active labs for summer research experiences. The new HHMI grant will support building outreach programs at more high-need schools and developing programs for high schools.
Staub thanked her science faculty colleagues involved in developing the grant, especially biology Associate Professor Brook Swanson, who coordinated developing and writing the proposal, and said the administration's support was a key to its success.