Rev. Tutu Urges Graduates to Dream, Collaborate with God to Make World Better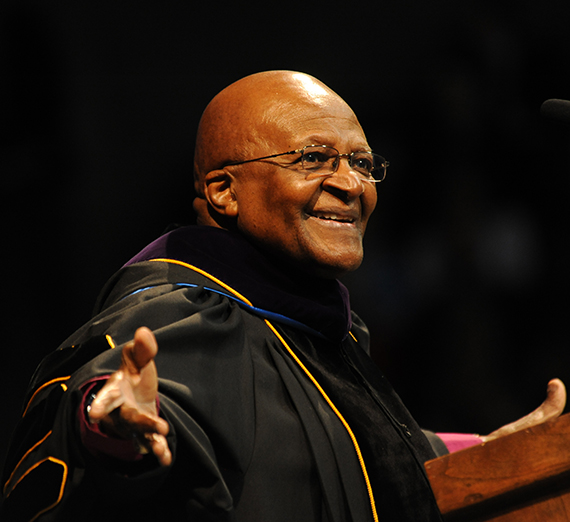 ---
Gonzaga News Service
SPOKANE, Wash. — Nobel Laureate Desmond Tutu told Gonzaga University graduates Sunday (May 13) to dream, reject cynicism, and collaborate with God to create a gentler and more equitable world. Sunday's senior commencement also marked the beginning of Gonzaga's yearlong 125th anniversary celebration.
God has always used youth as agents to help transform the world, the South African Anglican Archbishop Emeritus said, exhorting the estimated 1,147 bachelor degree recipients to dream of a world without war, hunger, racism and other forms of oppression, and partner with the Lord to make their dreams come true.
"God says to you 'please, please, please dream, please dream, don't allow yourself to be infected by the cynicism of oldies like us," Most Rev. Tutu told the packed crowd of more than 11,000 in the Spokane Veterans Memorial Arena. "Dream, dream God's dream, dream as you are, incredibly idealistic creatures. You do believe, don't you, that this is a world that can become a world where war is no more?"
After receiving an honorary Doctor of Laws degree from Gonzaga President Thayne McCulloh, the activist and internationally renowned winner of the Nobel Peace Prize for helping to break South Africa's shackles of apartheid asked the crowd to consider the billions of dollars being spent on "instruments of death and destruction."
Most Rev. Tutu called the vast spending on war "obscene," especially in light of how much human suffering worldwide could be relieved with a fraction of the total nations spend on war and the threat of war.
"A minute fraction would ensure God's children everywhere had clean water to drink," Tutu said. "Children would not die because they can't afford cheap, cheap, cheap inoculations as they do right now. God says 'dream, dream, dream of a world where poverty is no more. Dream of a world that is marked by equity where everyone, everyone has a decent, decent life.' We can, we can have such a world. God says 'please, please dream.' "
The inspirational octogenarian — a voice for justice, peace, truth and reconciliation throughout his ministry — retired from public life in 2010. Most Rev. Tutu explained why he accepted Gonzaga's invitation to speak at commencement, a commitment requiring him to travel from half a world away. Most Rev. Tutu said he had become friends with Sue Weitz, Gonzaga's vice president for student life, and was inspired by reading Gonzaga students' publication OneWorld that focused on social justice issues.
"It just blew my mind. I wanted to congratulate all of the students who were responsible for that publication because it was describing some of the fantastic things that the students do. "I can't resist young people . . . they are some of the most incredible creatures in God's world, and I mean you" (pointing to the graduates).
Throughout history, God has collaborated with youth to change the world, Most Rev. Tutu said, citing Mary Magdalene, the prophet Jeremiah, King David and others. Youth also helped free Nelson Mandela from prison so he could go on to become president of South Africa (1994-1999), and youth helped create a free South Africa, he said.
"You are part of a movement to change God's world, to make it beautiful," Most Rev. Tutu said. "God says . . . 'please help me to make my world more hospitable through gentleness. Help my world become more hospitable to caring, to compassion, and to sharing.' "
Ending with an oratorical flourish, Most Rev. Tutu said Jesus invited all people to follow Him, regardless of race, sexual orientation or faith.
"Jesus didn't say 'I'll draw some.' Jesus said, 'I will draw all, all, with an incredible divine embrace of love that won't let you go. All, all, all, beautiful, not-so-beautiful, clever, not-so-clever, tall, short, streamlined, not-so-streamlined, black, white, yellow — all," Tutu said to the crowd's applause.
God's love is all-inclusive, and the Lord wants to partner with youth so His "children will get to know we are all one family, God's family, the human family. And no one, no one is outside this embrace," Most Rev. Tutu said.