Buddhist Geshe Phelgye Reflects on First Year at Gonzaga, Will Return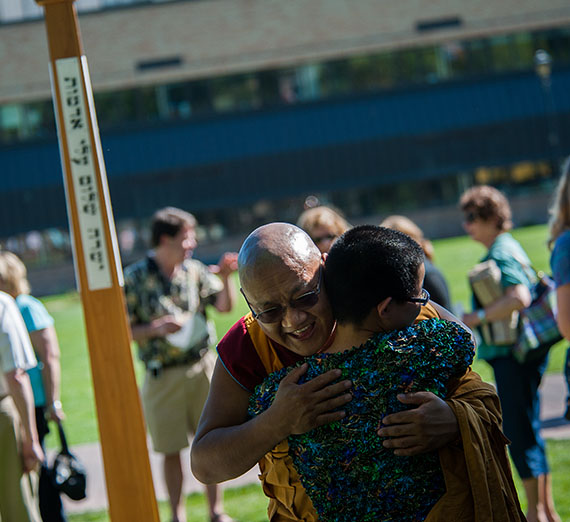 ---
By Tara Schmidt
Class of 2012
SPOKANE, Wash. – People are inspirational for different reasons. Venerable Geshe Thupten Phelgye (Geh-shay Toop-ten Pel-gay) inspires with his spiritual conviction, wisdom, and warm, engaging personality, according to friends and followers he has gained since coming to Gonzaga as part of the University's global initiative.
"I remember when he introduced himself to the class, Doctor (John) Sheveland asked him, 'How is it that you ended up at Gonzaga? How is it that you made your transition from Tibet to India, to here in Spokane?' And he said, 'Well, in Buddhism it's really easy to answer that question. Karma,' " said junior William Breckenridge.
Karma, a fundamental doctrine in Buddhism, is the law of moral causation or the bringing of inevitable events upon oneself. Associate Professor John Sheveland and the religious studies department invited Geshe Phelgye to become Gonzaga's Global Scholar in Residence for the 2011-2012 school year with support from Gonzaga's Center for Global Engagement. The invitation, which aligns with the Jesuits' emphasis on interreligious dialogue, came after Geshe Phelgye wowed members of the University community with his guest lectures: "The Art of Happiness" in 2007, "Techniques for Transforming Hatred into Love" in October 2008, and "Economics and Human Rights" in 2010.
As Global Scholar in Residence, Geshe Phelgye co-taught classes on Buddhism and Religions of Asia 2011-2012 with Sheveland.
"Gonzaga, being a Catholic and Jesuit university, proposing a Buddhist monk to come teach is very precious to me," Geshe Phelgye said. "So many students and so many professors have touched my heart. They were more concerned about me than myself. They kept asking, 'What's happening Geshe La?' 'What's next?' 'Are you coming back?' 'How can we help?' Many, many people. These things touch my heart. Sometimes, bring tears to my eyes."
"Geshe" is a Buddhist academic title bestowed upon learned monks, meaning "spiritual teacher." Adding the suffix "La" is a Tibetan courtesy title, equivalent to "Mr." or "Ms."
Born in Tibet in 1956, Geshe Phelgye walked with his parents to India in 1959 to escape the Communist invasion of Tibet. In India, he studied and became a monk by age 17. He earned a doctorate in Buddhist philosophy from the Sera Monastic University in 1991 and spent five years on a meditation retreat guided by the Dalai Lama. In 1997, after a blessing audience with the Dalai Lama, he founded the Universal Compassion Movement, which promotes vegetarianism worldwide.
Academic Vice President Patricia O'Connell Killen extended an invitation for Geshe Phelgye to remain at Gonzaga for a second year, and he accepted. After a visit home this summer, he will shift his focus away from instruction to activities with University Ministry and Student Life.
During his time at Gonzaga, Geshe Phelgye has been mentoring a small group of local residents interested in practicing Buddhist meditation. This includes weekly prayer sessions with Geshe La, chanting, and reflection on Buddhist teachings.
Geshe La says Buddhist philosophy and teachings are meant to be a complement to other religions, not exclude them. He hopes his work at Gonzaga in the 2012-13 academic year will achieve just that – spread awareness and knowledge of Buddhism and promote interreligious dialogue, an emphasis of Buddhist monks and Jesuits alike.