Nicolas Contreras to Attend a Top Medical School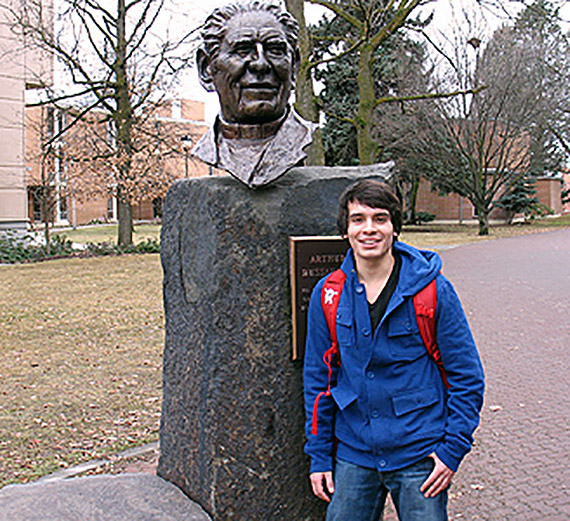 ---
By Catherine Van
Class of 2012
SPOKANE, Wash. — Dreams came true for Gonzaga graduating senior Nicolas Contreras who opened up his mailbox one recent day to find an acceptance letter from Mayo Medical School. Contreras has studied biochemistry diligently at Gonzaga, hoping one day to become a heart surgeon. With Mayo as his No. 1 choice, Yale University Medical Clinic and Stanford University became worthy contenders in his top three choices.
The scholarship and cost of attendance were major selling points for Mayo, but what sold Contreras was its unique medical philosophy that emphasizes a patient-centered focus, augmented by the expertise, compassion and traditions of the world-renowned Mayo Clinic to educate and prepare medical students to be physician-leaders in 21st century medicine.
"They put the needs of their patients first. I wanted to become a doctor because of the service component of it," Contreras said. "Giving yourself entirely to those in need and Mayo's philosophy follows that."
After four years of exemplifying Gonzaga's Jesuit mission statement, Contreras finds similar ideals at Mayo.
"It's just another extension of home, of Gonzaga," he said. "I was able to develop myself in every aspect of my being here, which was one of the reasons I was a competitive applicant."
Renowned for its innovative and effective treatments, Mayo Clinic is one of the best hospitals in the world. Mayo Clinic specializes in treating difficult-to-treat patients - wherever in the world they may live. With more than 40 percent of its resources devoted to research, Mayo is distinguished by integrated care and a strong research facility. It was America's first integrated group practice and has become a model for best practices nationwide.
Contreras will be the third Gonzaga alumnus to attend Mayo Medical School. He will continue a mini-Gonzaga legacy started by Matt Hopkins ('96) and Ryan MacDonald ('07).
Hopkins has been on staff at the Mayo Clinic as a consultant in the obstetrics/gynecology department where he focuses on benign gynecologic surgeries. Hopkins also serves as the associate residency program director and as an assistant professor of OB/GYN.
Hopkins advises Contreras and future Mayo hopefuls from Gonzaga that the transition is easy and the academic preparation they received at Gonzaga is essential for a career in medicine.
"While medical education and the field of medicine is changing, it is an exciting time to be embarking on a career in medicine," Hopkins said. "Keep an open mind, challenge yourself, and get as many experiences as you can."
Contreras and Hopkins share not only a Gonzaga kinship, but similar philosophies on medicine and life.
"I truly do enjoy my job — that is probably the most rewarding part for me. I find it challenging, interesting, and feel we are helping our patients," Hopkins said. "At the same time we are educating the next generation of physicians and trying to advance medicine."