Students Inspire Archbishop Tutu to Speak at Senior Commencement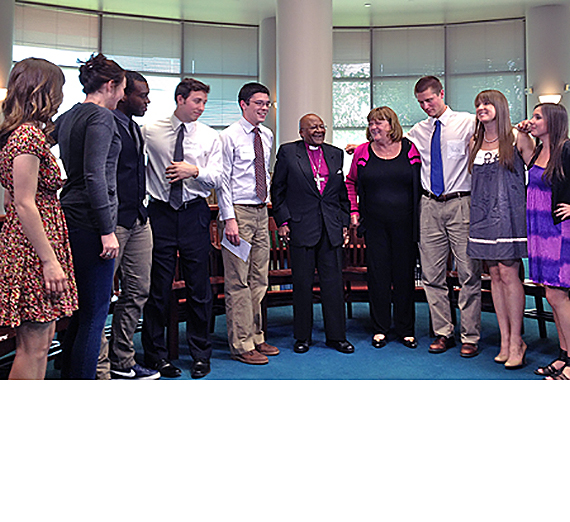 ---
Gonzaga News Service
Gonzaga University's 119th Commencement Exercises May 11-13
Following is a glimpse of some of the many outstanding Gonzaga University students who will graduate during the University's 119th commencement exercises this weekend (May 11-13). These seniors embody the best of Gonzaga's ideals. For example, Julia Biemann (pictured above, left) worked on the magazine OneWorld that Most Rev. Desmond Tutu indicated inspired him to speak at Gonzaga's senior commencement on Sunday, May 13 at the Spokane Arena. Archbishop Tutu noted: "I am always inspired and awed by the idealism and altruism of young people. I was swept off my feet at the projects they described in the [Gonzaga students' magazine] OneWorld. So I am honoured to accept your kind invitation . . . to share in your 125th year celebrations and 2012 Commencement exercises."
Heroic Seniors
Maggie Clark, nursing, and Julia Biemann, accounting, trekked through the Grand Canyon last spring when, on May 20, they saved the life of Californian Michael Morris.
Clark and Biemann are well-rounded students.
Clark has been a cellist in the Gonzaga Symphony Orchestra for four years, concertmaster for one. After graduation, Clark plans to volunteer at a children's hospital in Ecuador before working in a hospital emergency department. Clark said her most significant Gonzaga experiences involve the close-knit University community. "Without my friends and professors and people who have helped build me as a person and watch and help me grow, I do not know where I would be. I am overwhelmed sometimes by the amount of care and guidance my professors have shown and how I never felt alone through my struggles through life or school!"
Biemann, an assistant editor for OneWorld magazine for two years and editor this year, plans to enter the Executive Team Leader Training Program for Target in South Orange County, Calif. Biemann says she has had many "amazing" experiences at Gonzaga, including her involvement in outdoor activities and her involvement in OneWorld magazine. "OneWorld has really given me the opportunity to share this love and get other people excited to share their stories! Hearing how other people make so much of a difference in people's lives, and being able to share that with the Gonzaga Community (and beyond) has been a true inspiration. I fully intend to continue contributing to the magnificent publication as an alumna."
Students Engineer Outstanding Results
Andrew Matsumoto, of Yakima, Wash., will graduate summa cum laude on Sunday (May 13) with a Bachelor of Science degree in civil engineering. He plans to enter a doctoral program in Duke University's Pratt School of Engineering. Matsumoto was part of a five-member team of Zag engineering students that captured a $90,000 grant in a national engineering competition in Washington, D.C. last month. The team developed two methods to improve the health of Zambian women and children, and a plan to distribute the devices in Zambia. The team — which also includes seniors Melanie Walter, Judith Gap, Mont. (pop. 147), Ethan Bannister, Seattle, and Sidney Elmenhurst, Woodinville, Wash. — will use its award money to implement their plan to establish a social enterprise in Zambia to support clean water and air. One of the team's breakthroughs involves development of a simple ventilation system for kitchens in rural dwellings; the system uses electricity generated from thermoelectric cells driven by waste heat from cooking fires. Their second development is a ceramic water filter made with local materials to remove contaminants from home drinking water. The students won the award in the Environmental Protection Agency's annual People, Prosperity and the Planet competition. Matsumoto says his biggest take-away from Gonzaga is what he learned in the innovative Hogan Entrepreneurial Leadership Program. "Hogan has taught me how to be more reflective in my work," he says, "to understand what I'm learning and its value beyond monetary benefits or even technical accomplishments. Improving the lives of others is as vital as any success." Read the full story
Gonzaga's Dynamic Debating Duo Graduate
Gonzaga's top debate team of seniors Leah Moczulski and Paul Kanellopoulos advanced to the Final Four of the National Debate Tournament this spring, becoming the first team in Gonzaga history to do so. (Georgetown University, a sister Jesuit school, won the national championship.) Moczulski and Kanellopoulos both hail from Houston. Debate Coach Glen Frappier called this debate season "the most exciting of my coaching career." This season marked the 16th consecutive year Gonzaga has qualified at least one team for the National Debate Tournament, underscoring its consistent excellence.
Kanellopoulos, a political science major with a minor in applied communication, will graduate Magna Cum Laude. He received the Albert Mann debate award and the Sister Margaret Mary Conway forensics award on April 24. Kanellopoulos plans to attend law school at the University of Washington or Georgetown University. Asked what Gonzaga experience has meant the most to him, Kanellopoulos said: "Definitely my experience on the debate team. It has helped me grow as an academic and as a person, as well as introducing me to a group of people that I will keep in touch with for the rest of my life."
Moczulski, a double major in political science and history who also won the Albert Mann debate award, plans to attend graduate school at Wake Forest University in Winston-Salem, N.C., for a master's degree in communication and will coach the Wake Forest debate team. Asked what Gonzaga experience has meant the most to her, Moczulski said: "My entire experience at Gonzaga has been rewarding. It is hard to name one event that encapsulates my time at Gonzaga. However, the overarching theme is that Gonzaga is an institution that is focused on community. That emphasis shows itself constantly — the staff and administrators are interested in the personal progress of the students. I never felt like just a number. Personally, returning home from the National Debate Tournament this year was one of my most rewarding experiences. This was not entirely based on our success, but also because of the reception by my fellow students and the faculty, and how excited they were about our success. It proved to me that people care about what goes on at this University and its student body."
One Zag's Zeal for Service
Alex Power is one Zag with a zeal for service. Power embodies a balanced integration of academic rigor with the compelling ideals expressed in Gonzaga's Mission Statement. After graduating with a bachelor's degree in business administration — with a double concentration in marketing and human resources management — he will join the Jesuit Volunteer Corps to work at a soup kitchen in Portland, Maine. As a mentor for Campus Kids, a SMILE coordinator, Reality Camp participant, and a leader in Mission: Possible, Power has experienced firsthand Gonzaga's transformative power. "I have such a privileged life and we take for granted what we have sometimes," Power said. Doing service, he said, "forces you out of your comfort zone and gives you the ability to experience sides of people's lives that you typically are never able to see." According to the Civic Engagement Consortium Survey of more than 22,000 students at 48 universities nationwide, a whopping 79 percent of GU students aim to be engaged in their communities after graduation — that's 6 percent higher than the national benchmark among students at institutions participating in the study. Asked what Gonzaga experience has been most significant to him, Power said service. "I think that my service work through CCASL has been the most meaningful because it has helped shape me into who I am today. It had created this desire to serve and a longing to take action. That is why I am going JVC. Also, I think just the community at GU has been amazing. It's so welcoming and I have made lifelong friends."
Other Story Ideas
Record Number of Graduates, Again: For the 10th consecutive year, Gonzaga will graduate its largest class ever during its 119th commencement exercises this weekend. The University expects to confer a total of 2,221 undergraduate, graduate and law degrees, a dozen more than its previous record-largest class of 2,209 graduates in 2011.
Gonzaga expects to confer 1,147 bachelor degrees (up 45; 1,102 in 2011), 887 master degrees (off 39; 926 in 2011), 19 doctorates (same as 2011), and 168 law degrees (up 6; 162 in 2011). Figures represent best estimates.
125th Anniversary: This weekend marks the official start of Gonzaga's yearlong 125th Anniversary celebration. Gonzaga University School of Law will launch its Centennial Anniversary with a Sept. 20 lecture by author Scott Turow.
Law School Commencement begins at 9:30 a.m., Saturday, May 12, followed by Graduate Commencement at 5 p.m.; both events will be in the McCarthey Athletic Center on campus.
Senior Commencement Features Nobel Peace Prize Laureate Archbishop Desmond Tutu as keynote speaker. The event begins with the academic procession at 9:30 a.m., Sunday, May 13 at the Spokane Veterans Memorial Arena.
The Greening of Gonzaga: For the first time, Gonzaga graduates this weekend will don caps and gowns made from 40,000 recycled plastic bottles. Read the story.
Gonzaga's Social Justice Missioning Ceremony, when Gonzaga honors graduates committing to a period of volunteer or service work (such as Peace Corps or Jesuit Volunteer Corps), 4 p.m., May 11 in University Chapel (3rd floor, College Hall).