Gonzaga Honors Tom & Camilla Tilford with Ignatian Spirit Award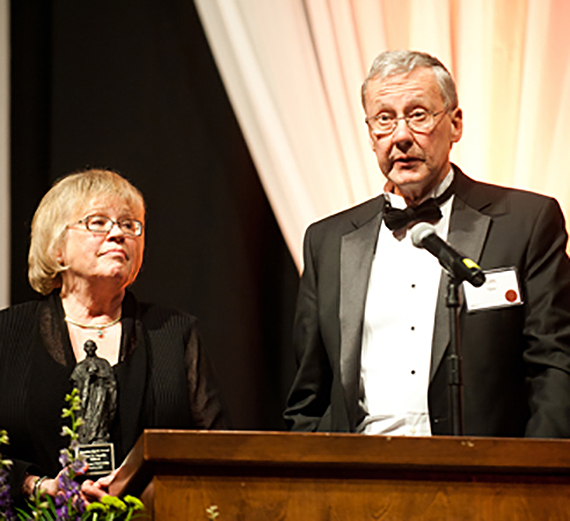 ---
Fifth Annual Ignatian Gala Recognizes Benefactors
Gonzaga News Service
SPOKANE, Wash. — Gonzaga University thanked its benefactors and specially honored longtime benefactors Tom and Camilla Tilford with its Ignatian Spirit Award at the fifth annual Ignatian Gala at the McCarthey Athletic Center April 12.
Gonzaga President Thayne M. McCulloh recognized the Tilfords for their extraordinary contributions as individuals who exemplify St. Ignatius of Loyola's call to be persons for others, through their financial benefaction, and most importantly, through their limitless sharing of themselves as true "partners in mission." Gonzaga previously honored the couple with honorary Doctor of Laws degrees in 2009. The University confers the Ignatian Spirit Award each year to benefactors who have given generously of their time, talent and resources to advance Gonzaga. The Tilfords embody the spirit of St. Ignatius, founder of the Society of Jesus, whose service to others has inspired Jesuits for centuries. The Tilfords chair Gonzaga's yearlong 125th Anniversary Celebration — "Tradition and Transformation" — that begins with Senior Commencement on Sunday, May 13 when Archbishop Desmond Tutu is to deliver the keynote address.
Tilfords Have Served Gonzaga in Many Ways
Camilla Tilford has served Gonzaga in a variety of roles, including as a member of the Greater Gonzaga Guild (2003-11). Tom Tilford, a 1966 alumnus who hails from the first class of the Gonzaga-in-Florence (Italy) study abroad program (1964), was a member of Gonzaga's Board of Trustees (1999-2007) and served as chair (2002-03) and vice chair; he remains a Trustee Emeritus. A graduate of the University of Washington School of Law, Tilford directed Gonzaga's Hogan Entrepreneurial Leadership Program (2006-08). He serves on several company boards, has practiced as a certified public accountant and a lawyer, and has taught law and business at Gonzaga.
The Tilfords' three children are David Tilford, Michael Tilford ('03) and Kelly Tilford (Gonzaga-in-Florence, '95).
Gonzaga dedicated the Charles and Helen Tilford Global Learning Environment on April 14, 2011 to honor Tom's parents. The facility is located on the fourth floor of the Tilford Center for the School of Professional Studies. The Tilford Center was dedicated Jan. 27, 2009. Charles Tilford, a 1934 Gonzaga alumnus, was president and majority shareholder of Bitco Inc., an industrial supply firm with operations in the Northwest, Canada, and Hawaii. Charles Tilford was active in the Spokane community, held many civic posts and served on various company boards. Gonzaga also was a priority for Charles Tilford, who was president of the Board of Regents and chair of the President's Council Board. To further honor Tom's parents, Tom and Camilla established the Charles and Helen Tilford Scholarship in 1982. Since its establishment, there have been more than 150 awards made to deserving students.
Established in 2008, the Ignatian Spirit Award is presented annually at the Ignatian Gala to recognize members of the Gonzaga community who embody the spirit of St. Ignatius and are an inspiration in serving the common good through their exemplary service and benefaction to Gonzaga.
More than 400 Gonzaga Benefactors Attend Gala
More than 400 Gonzaga benefactors, including parents, friends, alumni, students and members of Gonzaga University Jesuit Community, attended the gala. The Gonzaga broadcast studies department, and GU's Big Bing Theory a cappella singers, provided entertainment. Student emcees, Alyssa Crawford, a senior from Spokane, and Colin McQuilkin, a senior from New Canaan, Conn., displayed their broadcasting talents.
Gonzaga's Ignatian Spirit Award
The Ignatian Spirit Award recognizes members of the Gonzaga University community who embody the spirit of St. Ignatius and inspire others to serve the common good through exemplary service and magnanimous benefaction. Three years ago, the Ignatian Spirit Award was given to major benefactors Harry (posthumously) and Colleen Magnuson. In 2010, another Gonzaga couple, Don and Carol (posthumously) Herak, were honored with the award for exemplifying the Ignatian spirit. Last year Mert (posthumously) and Jessie Rosauer and the Rosauer Family received the award. Gonzaga's Jesuit community was honored with the inaugural award in 2008.
Nearly 13,000 alumni, parents, friends, corporations and foundations supported Gonzaga last year, contributing nearly $14.1 million for financial aid, scholarships and capital projects. Gonzaga is ranked the No. 3 best university in the West in the 2012 U.S. News & World Report annual college rankings (September 2011). Gonzaga also remains No. 3 in the West among its 88 peer institutions for alumni giving as 20 percent of living undergraduate alumni gave back to their alma mater in recent years. U.S. News & World Report also ranked Gonzaga the No. 4 best value in its classification while the University also made Kiplinger's list of the top 50 best values in private colleges.
Benefactors offer crucial support to Gonzaga students as few realize that 97 percent of Gonzaga students receive some form of financial aid. Fifty-seven percent of Gonzaga students received need-based grants in 2010, according to U.S. News & World Report.