GU Launches Alumni Chapter in Japan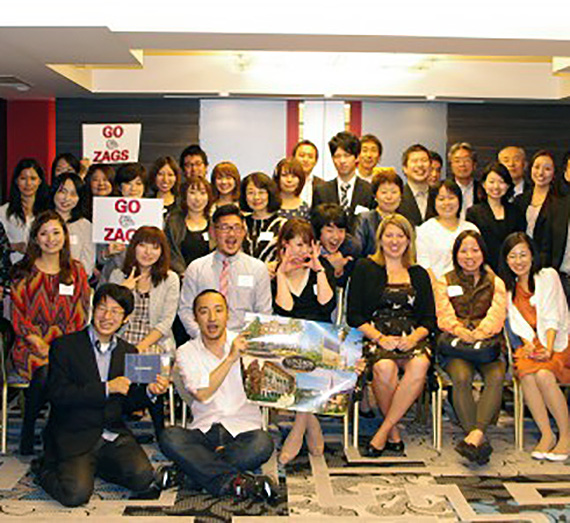 ---
Gonzaga News Service
TOKYO — Thirty-eight loyal Gonzaga alumni ranging from the classes of 1958 to 2012 gathered at the New Otani Inn last month to mark the University's 125th Anniversary and celebrate the official launch of the Japan Chapter of the Gonzaga University Alumni Association. It's Gonzaga's first overseas chapter and second international group, joining the Canada Chapter.
Melissa Heid, program coordinator for the Master of Arts in Teaching English-as-a-Second Language Program, was in the region recruiting at the time, allowing her to attend the Oct. 20 celebration in Tokyo. The excitement of the Japanese alumni was evident, Heid said.
"It was like people did not want to go home," Heid said. "It was a great event, really so much fun as everyone was excited to see friends from Gonzaga in the past. The alumni went around the room and shared when they attended Gonzaga and a favorite memory."
Seiko Katsushima, who teaches Japanese in Gonzaga's modern languages program, came up with the idea of a Japan Chapter. Katsushima said there are more than 350 Japanese alumni of Gonzaga's master's, undergraduate, international student and ESL programs. She initiated the chapter so the alumni could stay connected in Japan and reminisce about their Gonzaga experiences and lives as U.S. students.
For Heid, one striking aspect of the event was the career success of the alumni.
"We have such a wide variety of career fields among the Japanese alumni, but everyone seemed so accomplished," said Heid, who speaks Japanese.
Whether they attended Gonzaga for a few months or years, Heid and Katsushima said the Japanese alumni share an indomitable love for the University and uniformly embrace their Zag identity. For example, Taisuke Nanjo, who attended Gonzaga for a year before graduating from another university on the East Coast, "considers himself a Zag," Heid said.
Frank Kimura, Class of 1958, attended the event and asked Heid to give his best regards to Father Alfred Carroll, S.J., who helped many Asians attend Gonzaga for decades. [Read 2011 Gonzaga Magazine story "Father Carroll's Kids."]
There are many stories of Gonzaga's innumerable connections with Japan and other Asian nations, including a love story that began at Gonzaga.
Ryuichi Nakamura ('08), an undergraduate student from Japan, went to the Spokane International Airport one day to welcome Shion Goto ('11), a new graduate student from Japan, and bring her back to campus. They quickly became friends, starting dating, and eventually married.
Another objective of the Chapter is to promote Gonzaga in Japan. Katsushima maintains strong links with Japanese alumni and two years ago began the effort to start the Japan Chapter. The first hurdle was signing up at least 50 alumni, a milestone reached in August 2011. The Chapter has since blossomed to 60 members.
Katsushima is pleased her vision has come to fruition.
"It's the culmination of several years of hard work, both by me, and other GU people and entities and, of course, the former students now living in Japan," she said.
The Japan Chapter plans to engage in National Gonzaga Day Jan. 24, 2013 with the same programming and spirit as all of the 35 U.S. alumni chapters, and the Calgary-based Canada Chapter. Due to the time difference, the Japan event is tentatively slated for Saturday, Jan. 26 (2013) at 6 p.m., Tokyo time. (Gonzaga also maintains a Florence, Italy Chapter, which exists primarily for stateside alumni of its Gonzaga-in-Florence study abroad program.)
Bob Finn, director of the Alumni Association, said he has heard from alumni in several countries since the Japan Chapter was established. Gonzaga is focused on supporting its current chapters and is always open to exploring ideas, he said.