U.S. News & World Report Ranks GU No.3 in West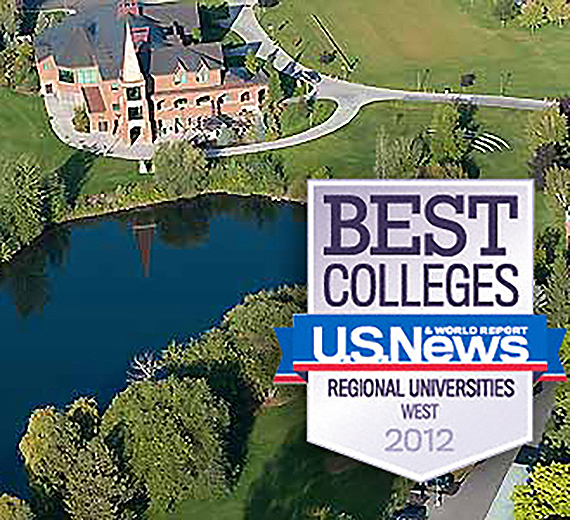 ---
Gonzaga News Service
SPOKANE, Wash. — Gonzaga University moved up one spot to reclaim the West's No. 3 best "Regional University" spot in U.S. News & World Report's annual college rankings released this month. Gonzaga ranks No. 2 in the West for both its average freshmen retention rate and average graduation rate. Gonzaga's School of Engineering and Applied Science is tied for the publication's No. 27 best undergraduate engineering program in the nation (at engineering schools whose highest degree is a bachelor's or master's). The University remains the No. 4 best value in the region.
Nationwide, only seven regional universities — six in the North and Santa Clara in the West — top Gonzaga's 81 percent average graduation rate. Gonzaga's 92 percent average freshmen retention rate (for freshmen entering in 2006-2009) tops all but four regional universities nationwide; in the West, only Santa Clara's average freshman retention rate (93 percent) was higher.
This marks the 13th consecutive year that Gonzaga has been ranked among the West's top four regional universities, and the 17th consecutive year (24th in the past 27 years) it has been ranked among the West's best regional universities. Gonzaga was last ranked the No. 3 best regional university in the West in the 2010 publication (released in September 2009).
Gonzaga ranks third among the top 88 schools in its classification for alumni giving as 20 percent of living undergraduate alumni with bachelor's degrees gave back to Gonzaga in 2008-09 and 2009-10, an indirect measure of student satisfaction. Among Gonzaga's peers in the top 50 regional universities in the West, only Mills College (California; 22 percent) ranked higher for alumni giving.
Gonzaga's overall ranking is based on a host of indicators of academic excellence, including: peer assessment (25 percent); graduation and retention rates (25 percent); faculty resources (20 percent); student selectivity (15 percent); financial resources (10 percent); and alumni giving (5 percent).
U.S. News rates Gonzaga the No. 4 best value among West regional universities based on the 2010-2011 net cost of attendance — $25,716 — for undergraduates who receive the average level of need-based financial aid; 57 percent of GU students received need-based grants in 2010.
Gonzaga's mission to care for the individual student is evidenced by its 11-to-1 student-to-faculty ratio (2010). Gonzaga also ranks high in the publication's measure of the academic quality of incoming freshmen. Three of the top four Regional Universities in the West are Jesuit: Santa Clara (No. 2), Gonzaga (No. 3), and Loyola Marymount (No. 4).
Following is a sampling of the other college rankings in which Gonzaga also appears:
Princeton Review "The Best 376 Colleges," "Best Western Colleges," No. 6 for "Everyone Plays Intramural Sports," and No. 18 for "Most Religious Students."
Sierra Magazine (Sierra Club) top 100 "Coolest Schools."
Washington Monthly No. 18 among Top Master's Universities nationwide (public and private).
Forbes Magazine Nation's 650 Best Undergraduate Institutions, Best Private Colleges and Best Regional Colleges: West.