GU Honors Rosauer Family at 4th Annual Ignatian Gala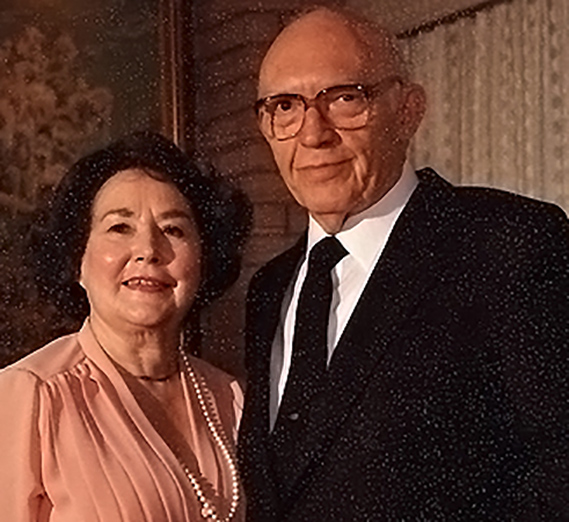 ---
Gonzaga News Service
SPOKANE, Wash. — Standing tall and proud before the front doors of College Hall, the statue of St. Ignatius of Loyola serves as a physical reminder of Gonzaga University's mission and values. A less tangible but equally powerful reminder is the University's annual Ignatian Spirit Award that honors community philanthropists. Gonzaga celebrated the legendary J.M. "Mert" and Jessie Rosauer and the Rosauer family on Thursday (April 14) with the award at the fourth annual Ignatian Gala, a black-tie event celebrating all of Gonzaga's generous benefactors.
The Rosauer name is well known and respected throughout the region, affixed to supermarkets in the states of Washington, Idaho, Montana and Oregon. The name also can be found on a Gonzaga University building. The J.M. and Jessie Rosauer Center for Education, dedicated in 1994, serves as an invaluable tool for aspiring teachers, and is a reminder of the couple's generous contributions to Gonzaga since 1968.
The Rosauers have made so many contributions to Gonzaga University, including: the Crosby Student Center; Bernard J. Coughlin, S.J. Endowed Chair; the Business School Building Fund; Great Teachers Program; Dussault Foundation; the Foley Center Library and the Joseph Merton and Jessie Rosauer Family Scholarship for education students with financial need. Since its establishment in 2000, there have been 26 Rosauer Family Scholarship awards made to deserving students.
Their dedication to hard work is legendary as is their commitment to improving the world for others. Mert and Jessie met while attending North Central High School, and began their long marriage in 1935. Mert borrowed $1,000 from his parents to open his first grocery store, and the following year Jessie borrowed $75 from her parents to start a beauty shop; for a time, she owned two shops and managed a third. Despite the failure of Mert's first grocery venture, he eagerly tried again and in 1949 opened a new store that became the first in the Rosauer chain and the first bona fide "supermarket" in Spokane. Jessie contributed much to the aesthetics of the new store, even implementing professional looking uniforms for checkers.
The Rosauers, devout Catholics and members of St. Augustine's Church, sold the supermarket chain in 1984 after it had grown to 24 stores and 1,600 employees. After Mert retired, the couple focused on spending time with family and serving the community in multiple ways. While neither Jessie nor Mert attended college, both valued education tremendously and recognized the transformative impact education has on people's lives. When Mert passed away in 1990, Jessie seamlessly took over the family's financial responsibilities, continuing their traditions of giving to various deserving organizations. The couple's three children are Robin Rosauer (1965 GU alumna), Shari Kain, and Susan Palmer. Their prolific community philanthropy blessed many organizations, including: United Way, Spokane Guilds School, Fred Hutchinson Cancer Research Center in Seattle, Sacred Heart Medical Center, and Girls and Boys Town in the Philippines. Jessie was honored by Gonzaga in 1994 with the DeSmet Medal, Gonzaga's highest honor. Mert received an Honorary Doctor of Laws Degree from Gonzaga in 1987.
Mert's civic and professional activities were numerous, including: serving as chair of the (1960-61) United Crusade (United Way); president of URM Stores, Inc.; president of Hayden Lake (Idaho) Country Club; regional director of the Super Market Institute Board of Directors; president of Gavaliers Toastmasters Club; district governor of Toastmasters International District No. 9; director of Toastmasters International; member of GU Board of Regents (1963-69); member of Board of Overseers for Gonzaga Prep; inducted into Gonzaga Prep Hall of Fame; and advisory board member of Spokane and Eastern Branch of Seattle First National Bank.
Jessie's activities included service as a member of the Altar Society at St. Augustine's Parish; Philomathea at Gonzaga Prep; she launched the Holy Family Hospital Auxiliary; led the women's division of the United Crusade; was a past board member of Fort Wright College; and a volunteer for Morning Star Boys Ranch.
More than 425 Gonzaga benefactors, including parents, friends, alumni and students, attended the gala. The Gonzaga Academic Dance Program and GU's student barbershop quartet, provided entertainment. Presentations were made by Gonzaga President Thayne McCulloh and student emcees Greg Talbott, a sophomore from Lake Oswego, Ore., and Hannah Witt, a senior from Oregon City, Ore.
The Ignatian Spirit Award recognizes members of the Gonzaga University community who embody the spirit of St. Ignatius and inspire others to serve the common good through exemplary service and magnanimous benefaction. Two years ago, the Ignatian Spirit Award was given to major benefactors Harry and Colleen Magnuson. Last year, another Gonzaga couple, Don and Carol Herak, were honored with the award for exemplifying the Ignatian spirit. Gonzaga's Jesuit community was honored with the inaugural award.
Nearly 13,000 alumni, parents, friends, corporations and foundations supported Gonzaga last year, contributing nearly $14.4 million for financial aid, scholarships and capital projects. Gonzaga is ranked the No. 4 best university in the West in the 2011 U.S. News & World Report annual college rankings (August 2010). Gonzaga also moved up to No. 2 in the West among its 56 peer institutions for alumni giving as 22 percent of living undergraduate alumni gave back to their alma mater in recent years. U.S. News & World Report also ranked Gonzaga the No. 4 best value in its classification while the University also made Kiplinger's list of the top 50 best values in private colleges.
Benefactors offer crucial support to Gonzaga students as few realize that 95 percent of Gonzaga students receive some form of financial aid. Gonzaga students received an average 39 percent discount from total cost in 2008-09, according to U.S. News & World Report.