Road to GU's 125th Anniversary: A Look Back at 1926-27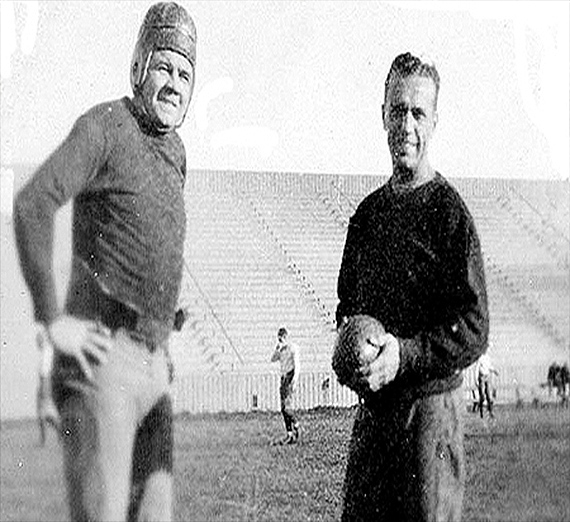 ---
(Above) George Herman "Babe" Ruth (left) chats with Gonzaga football Coach Clipper Smith in 1926. Photo courtesy of the Gonzaga University Archives.
1926-27
By Catherine Van and Peter Tormey
SPOKANE, Wash. — Gonzaga University played a central role in the nation's first National Indian Congress, held in Spokane in July 1926.
Rev. Wilfred P. Schoenberg, S.J., in his book "Gonzaga: Seventy-five Years," noted: "The movement for this great congress had its beginnings at Gonzaga." The idea emerged from a football game scheduled for Oct. 31, 1925 at Gonzaga between the Bulldogs and the Haskell Indian Institute in Kansas.
Upon hearing from Northwest Tribal leaders that there would be up to 3,000 Native Americans attending the game, then Spokane Mayor Charles Fleming dispatched a committee of Indians to Washington, D.C. to confer with the Indian department. According to Schoenberg, President Calvin Coolidge and Indian Commissioner Charles Burke offered their full support for the congress, which included the football game attended by some 13,000 fans and won by the Indians (10-9 in the last moment of play).
The event included a large parade in downtown Spokane in which Gonzaga's founder, Rev. Joseph Cataldo, S.J., nearly 90 at the time and bedecked in a great coat, occupied a seat of honor atop a float alongside Indians dressed in full regalia. Fr. Cataldo knew many of the people since coming to Spokane 60 years earlier. Gonzaga crowned the National Indian Congress the next day with a solemn high Mass.
In October 1925, Gonzaga student Bing Crosby and his friend and pianist Alton Rinker packed some clothes and instruments into their Ford Model T and bid adieu to Spokane, bound for Los Angeles and the big time.
Rinker, five years younger than Crosby, had led a small Spokane musical group made up of high school students and Crosby called The Musicaladers. Crosby's interest in school declined as the band's popularity grew, and he left Gonzaga one year shy of receiving a law degree — after the group disbanded.
Rinker's sister — singer Mildred Bailey — lived in L.A. With her help, the Crosby-Rinker duo beefed up their repertoire, smoothed out their act, and got their first big break when Paul Whiteman, known then as the "King of Jazz," offered them a contract. Crosby and Rinker debuted with the Paul Whiteman Orchestra in December 1926 at the Tivoli Theater, and made their first record with the Paul Whiteman Orchestra. Teaming up with Harry Barris, they became The Rhythm Boys. Crosby recorded his first major solo hit song — (listen to it) "I Surrender Dear" — in 1931 with Gus Arnheim's Coconut Grove Orchestra and the Rhythm Boys dissolved.
Crosby chose an ideal time to expand his career. The NBC Network was established, and electrical (microphone) recording had just replaced the tinny acoustic method, a boon for sensitive-voiced "crooners" like Crosby.
On Nov. 16, 1926, another celebrity graced Gonzaga's campus. Home run king, George Herman "Babe" Ruth spent some time on Gonzaga's gridiron, meeting the football Bulldogs. The "Sultan of Swat" set aside his bat to sport the biggest football uniform Gonzaga had to offer and tossed the pigskin around with the players. He spoke to the team, telling players he was picking them to win the Homecoming game on Thanksgiving Day against then Washington State College (WSC).
Unfortunately, Ruth's prediction did not come true as Gonzaga lost 7-0 to WSC. Despite the loss, an impressive crowed of more than 10,000 Gonzaga fans turned out for the game.
Gonzaga's teaching program was well-established by 1925, supported by summer and Saturday sessions.
"The catalogue for this year uses, for the first time the expression School of Education," Schoenberg wrote in his book. "The catalogue for the following year lists the School of Education as a separate entity within the university."