Huetter Mansion Becomes New Home 'Front and Center' for Alumni Association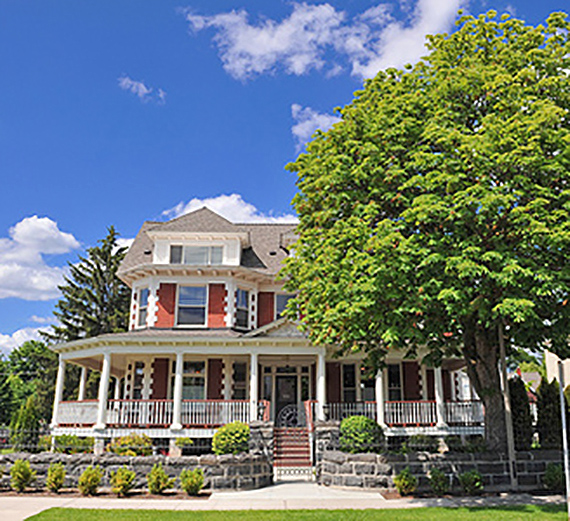 ---
By Peter Tormey
SPOKANE, Wash. — Gonzaga University is well known for its power to transform students for the greater good but few knew this transformative power extended to buildings. Such is the case with the strategic new roles for both the historic Huetter Mansion and Bing Crosby's childhood home, which face each other across Sharp Avenue at Gonzaga's main entrance.
The Huetter (Huh-ter) Mansion, which was Bishop White Seminary for 51 years at 429 E. Sharp Ave., now serves as home for the Gonzaga Alumni Association in a new location at 503 E. Sharp Ave. In turn, the building known as Crosby Alumni House (508 E. Sharp Ave.) for 30 years is now known simply as Crosby House. Gonzaga will maintain the Crosby House main floor for special alumni events as the home continues to serve as a must-see destination for tourists and alumni, while housing academic offices upstairs.
"This strategic move places the Alumni Association front and center at Gonzaga," said Margot J. Stanfield, vice president for University Relations. "We have seen such tremendous growth in alumni programs and outreach that the Crosby House was simply inadequate to house the staff and serve our alumni as well as we would like. We will maintain Crosby House, and are excited to give the Alumni Association a beautiful new home."
The Alumni Association moved across Sharp Avenue into Huetter earlier this year. The stately mansion is being restored to its former elegance and will debut this fall with special alumni events planned. The mansion will serve as home base for reunions, and will host socials for individual classes and other alumni events.
Plans are being made to honor those who raised funds to buy the Crosby home for the Alumni Association in 1980.
"Gonzaga University wants to reward and recognize those alumni," Stanfield said. Plans call for new signage to clearly direct alumni and visitors to the two historic buildings at Gonzaga's main entrance.
The 840,000-pound, three-story mansion captivated the community two years ago when it was moved across Addison Street to its new home on Gonzaga soil after the Catholic Diocese of Spokane donated it to Gonzaga. From July 23-24, 2008 the mansion moved inexorably to its destination, directed by Catlow Structural Lifting. The mammoth monument sat smack-dab in the middle of Addison Street for a while as drivers craned their necks and crowds gathered to witness the peculiar sight. Ninety-six wheels were attached to 12 straining dollies. After hours of adjusting and readjusting cables, tires, winches and workers' belts, the house moved 110 feet to where it now sits.
The mansion was built as a private residence in approximately 1897 by John Huetter, who had worked on several of Gonzaga's early construction projects, including College Hall. Since 1956, it was home for Catholic seminarians pursuing undergraduate studies at Gonzaga. A new Bishop White Seminary was built at its former location.
Alumni Association Director Bob Finn says the new alumni home greatly enhances entertainment and parking space, and houses offices upstairs. Its main floor includes an elegant living room for entertaining, a large dining room and parlor, a multipurpose room and full kitchen.
"We welcome all alumni and friends to stop by anytime Monday through Friday during regular business hours for a tour of the new Alumni Association home," Finn said.