Event Details
Note: This event occurred in the past. Information and links provided here are for historical reference and may no longer be valid.
About This Event
Join us for a virtual symposium, celebrating the launch of the Health & Technology Policy Project.
The event will include two academic panels:
Health, AI, and the Internet of Things
The Technological Response to COVID-19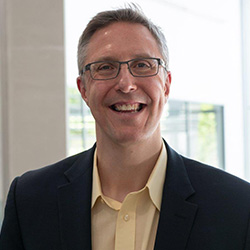 The symposium will feature keynote speaker Frank Pasquale, Professor of Law at Brooklyn Law School and author of New Laws of Robotics: Defending Human Expertise in the Age of AI.
Pasquale also wrote The Black Box Society: The Secret Algorithms that Control Money and Information.
Click here for full details and to register.
Sponsored by: The Center for Law, Ethics & Commerce.
Schedule:
10:00 - 10:15am: Introductory Remarks

10:15 - 10:45am: Keynote by Frank Pasquale

10:45 - 11:00am: Break

11:00am - 12:30pm: Panel 1: Health, AI, and the Internet of Things

Speakers:
Nicholson Price (University of Michigan Law School)
Charlotte Tschider (Loyola University Chicago School of Law)
Colin Walsh (Vanderbilt University Medical Center)
Sara Gerke (Harvard Law School)
Moderator: Mason Marks (Gonzaga University School of Law)
12:30 - 1:00pm: Break
1:00 - 2:30pm: Panel 2: The Technological Response to COVID-19

Speakers:
Ana Santos Rutschman (Saint Louis University School of Law)
Doron Dorfman (Syracuse University College of Law)
Patricia Zettler (The Ohio State University Mortiz College of Law)
Nathan Cortez (Southern Methodist University Dedman School of Law)
Moderator:
Claudia Haupt (Northeastern University School of Law)