I Love Being a Zag Because...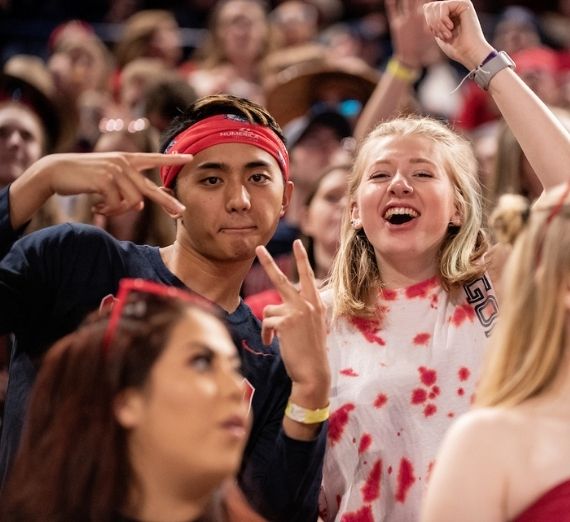 ---
Aaliyah Mae Lewis '24
I didn't always love being a Zag throughout my time here at Gonzaga and I still find difficulty at times in seeing myself here. Being a student of color at a predominantly white institution came with obstacles that I wasn't necessarily ready for, but through my experience so far, the advocacy and community that comes from the students and staff of our
DICE (Diversity, Inclusion, Community, and Equity)
department had become the turning point of my college experience. Our diverse population is small but, from it, it has built a tight-knit community that holds so many strong relationships and friendships. What I love most about being a Zag has been the process of reclaiming my identity and sharing it with a small community that reaffirms me and reassures my validation. Through
FASU (Filipino American Student Union)
,
HPIC (Hawaii/Pacific Islanders Club)
, and being a Student-Intern, I've experienced a lot of character development in recognizing why I should take up space on campus and why it matters to use that space with everything I stand for. My experiences here at Gonzaga differ from the larger population, but I've learned to love Gonzaga for the authentic relationships that I have developed over time.
Matt Ratto '24
I love being a Zag because of the people at Gonzaga, whether it be my classmates, my professors, or the staff on campus. I love the size of Gonzaga because I can walk through campus and wave to all my friends and people I know, as well as pass by someone that I have never seen before. The people are what make Gonzaga and it is the little things that make a difference. We have this saying, "Zags help Zags," which is really evident on campus. One instance that comes to mind is when entering a building, someone will always hold the door open for you, even if you are a little too far away. The campus is always very lively and the atmosphere is one of the biggest reasons why I love being a Zag!
Coleman Brummel '24
There are so many reasons why I love being a Gonzaga Bulldog. First, the Gonzaga community on campus is one of a kind. The first thing you notice on campus is that everyone is looking out for each other. From just the simple kind gesture of holding the door open for you, to being able to ask just about anyone for help at any time, contributes greatly to the warm feeling on campus. Another reason why I love being a Zag is because of the sheer number of opportunities to get involved in the campus community. Intramurals, clubs, work, and volunteer opportunities are everywhere and allow you to connect with other students easily. Finally, the basketball game days are one of the most unique game day experiences you can possibly have and are the cherry on top of being a Zag.
Tent City
and the in-game experience are sheer madness and shows just how passionate Gonzaga students are for their team and their university.
Julie Prestigiacomo '24
I love to be a Zag, because I am a part of a community. There is so much that comes with being a Zag; the biggest one is the family that comes along with this name. Everyone who attends Gonzaga, and everyone who is a part of the Gonzaga family, can proudly say they are a Zag. I love being a Zag because of the pride that comes with the name. We are a school that strives for excellence in everything we do. Yes, we have a large emphasis on the men's basketball team, but our women's team is no less spectacular. We also have extracurriculars that are inclusive to everyone. We have clubs that help everyone on campus find their niche and even people on campus that will help you start your own clubs. I love being a Zag because the possibilities are endless once you join this family. You can always find someone willing to help you and you can always find friends. Zags help Zags.