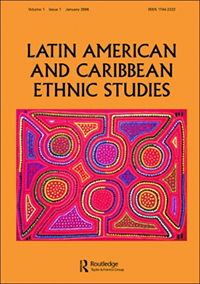 To promote new scholarship on Ethnicity, Race, and Indigenous Peoples, the journal Latin American and Caribbean Ethnic Studies (LACES) has established the LACES Best Graduate Student Paper Award. The award gives special recognition to a paper presented by a graduate student at the conference. The entries will be evaluated by two members of the journal's Editorial Board.
The winner will receive a $500 prize, will be honored at the conference, and will be offered the opportunity to publish the paper in the journal LACES (subject to peer review).
Papers can be submitted in English, Spanish, or Portuguese.
Length of papers must be between 5000 and 12000 words.
Style and presentation can follow any of the usual academic guidelines.
Submission deadline: August 15, 2019.
To enter the competition, send your paper as an email attachment (the file must be in Word or PDF format) to Journal LACES, laces@ucsd.edu.
Please include the following information in your email:
Name and email address
University and department
Current enrollment (Ph.D. or MA program?)