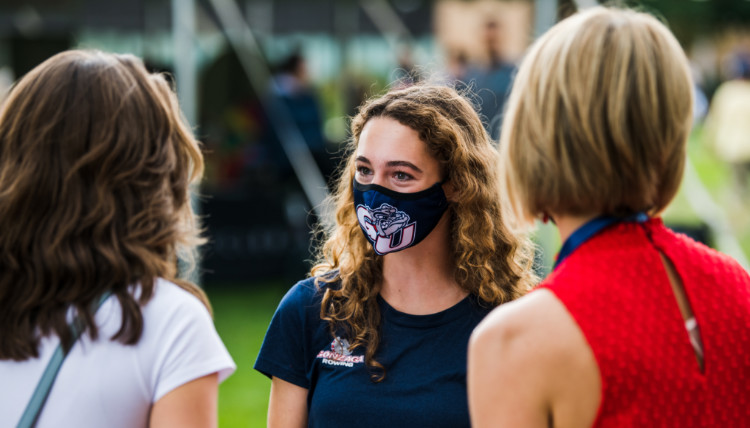 Gonzaga University community members – which includes students, faculty, staff, administrators and their visitors or guests – must be active participants in reviewing and following COVID-19 expectations.
As a Jesuit, Catholic and humanistic university, all community members have shared responsibility to set boundaries, communicate expectations, and engage in thoughtful dialogue and correction that demonstrates a care for self, others, and the community.
If Someone is Not Following Guidelines
When approaching community members not following guidelines, be mindful of the Ignatian concept of presupposition. This includes presuming best intentions and kindly engaging in explaining the impact of the behavior and requests to follow guidelines. The University anticipates most situations will be resolved through our shared responsibility to follow and respond to concerns in this manner. Compliance with the masking requirement is a shared responsibility, and it is a University expectation that all employees help maintain a safe environment on campus.
When these approaches do not result in compliance or behavior demonstrates willful disregard or is significantly affecting the greater community, the University has informal and formal processes to address those complaints. Additionally, the University has response protocols regarding University non-compliance with local/state/federal COVID-19 regulations.
Submit a Complaint
Click the button below to submit a complaint. Please provide as much information as possible in the complaint form.
Note: The COVID-19 Compliance Reporting Form is not an emergency reporting form and is monitored during standard business hours only. For emergencies or incidents that require immediate attention, please dial 911 or contact Gonzaga University Campus Security and Public Safety for on-campus concerns at (509) 313-2222.
How the University Will Review and Respond to Complaints
Reports are routed to Gonzaga University departments and personnel for review:
The University may contact reporting parties to discuss information contained in a report.
The University has limited ability to respond to anonymous reports. While such information assists the University in better understanding instances of COVID-19 compliance, patterns of concern, and the University's education, prevention, and response efforts; such reports generally do not result in the initiation of personal accountability investigations or resolution processes. In instances involving personal accountability, responding parties will be informed of the source and content of submitted reports.
Due to privacy regulations (HIPAA, FERPA, etc.), Gonzaga University has limited ability to share follow-up and/or resolution outcomes with reporting parties.