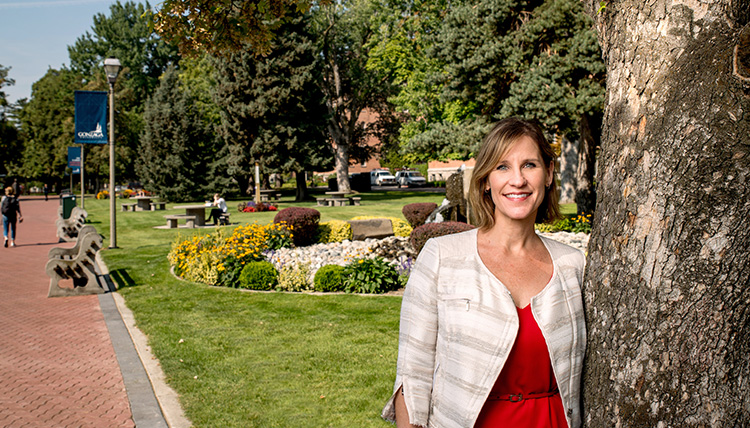 Name: Erin Hays - Director of Undergraduate Admission

Email: hays@gonzaga.edu
Phone: 800.322.2584, extension 6507 - or - 509.313.6507
Hometown: Whittier, CA
Degree: M.A. Education & Secondary Education Teaching Credential - Stanford University
B.A. Sociology - University of California, Santa Cruz
Territories: California (select schools in the Bay Area, Los Angeles, and San Diego), Connecticut, Delaware, District of Columbia, Kentucky, Maine, Maryland, Massachusetts, New Hampshire, New Jersey, New York, North Carolina, Ohio, Pennsylvania, Rhode Island, Tennessee, Vermont, Virginia, West Virginia
Why are you in admission at Gonzaga?
I am passionate about education because of its transformative power to positively change our world, our communities, and individuals. Due to the thoughtful, intentional, high-quality education delivered at Gonzaga, I see students become better versions of themselves during their time here. It is an honor to connect students with a four-year experience that will change their lives, and their communities, for the better.

Where is your favorite place on campus?
I love walking into College Hall every morning. It's a beautiful building that holds a tremendous amount of Gonzaga history. It's also a place of community, where I run into students, staff, faculty, and visitors.

What is your favorite thing to do in Spokane?
The balance of city life with outdoor recreation is what drew me to Spokane. A favorite activity involves walking along the river into downtown Spokane and beyond, to Riverside State Park. I would follow that up with a visit to the Kendall Yards neighborhood. There are some fantastic new restaurants there, and they have beautiful views of the river and downtown Spokane.

What is one piece of advice you have for prospective students?
This is Gonzaga-specific, but if you are interested in GU then please connect with us! The more we know about you, the better we can educate you on opportunities and programs that match your interests. We are happy to get to know you at high schools, college fairs, on our campus, over the phone or email, and even Skype!