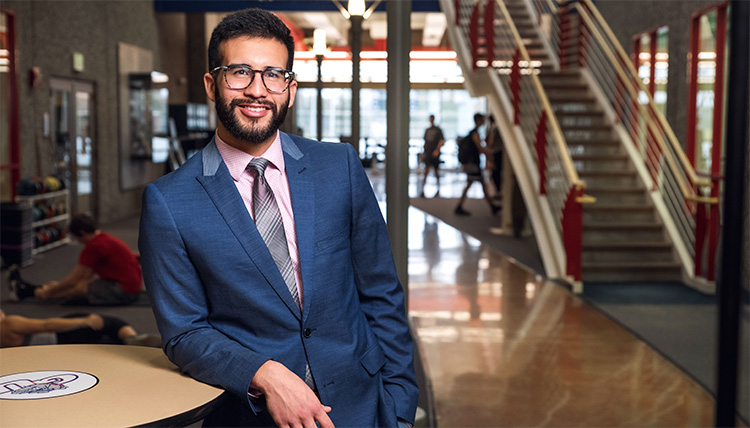 Name: Rodrigo Vazquez - Admission Counselor

(he / him / his)

Email: vazquez-de-mercado@gonzaga.edu

Phone: 800.322.2584, extension 4354- or - 509.313.4354
Hometown: San Diego, CA
Degree: B.S. Biology and Promotions minor - Gonzaga University

Territories: Arizona, Montana, New Mexico, Texas, and Utah
Why are you in admissions at Gonzaga?
Going to Gonzaga was the best decision of my life! I developed in a way I hadn't expected, both socially and academically. I was able to come in as a blank slate and become the person I wanted to be, the person I am today. I am in admissions because I want to share my pride and passion for Gonzaga in hopes that it will assist prospective students in their search to find their school. GU is a place where students will develop, be challenged, and be part of a community that will accept who they are and where they come from. When I graduated I found myself greatly missing Gonzaga, so what better way to address the issue than to comeback and work at Gonzaga!
Where is your favorite place on campus?
My favorite place on campus is the Rudolph Fitness Center. I have had countless great experiences here, from the triumphant smiles and disheartened faces of playing intramurals to the brief but meaningful conversations between workouts. There are always friendly faces and good conversations to have at the RFC, whether it's with the awesome gym directors and employees or your classmates and fellow Zags.
What is your favorite thing to do in Spokane?
My favorite thing to do in Spokane is to go explore the multitude of coffee shops the city has to offer. Each shop is unique and vibrant, making it easier to mix things up when you become tired or unproductive in your bedroom or a monotonous Starbucks down the road. These coffee shops are a good way to unwind as a student and immerse yourself in the Spokane community, whether its engaging in conversations with locals or reading about upcoming events such as live music or farmers markets.
What is one piece of advice you have for prospective students?
Visit campus! As helpful as websites, videos and emails are there is no substitute for the gut feeling you get when setting foot on campus. From walking around what might be your home for the next 4 years to the conversations and interactions you have with the students, faculty and staff that make up its community, there is no substitution for the sensation you get when you click with a school.