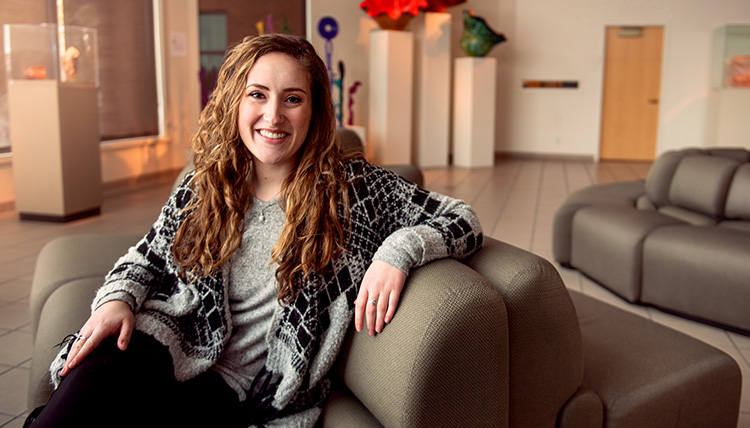 Name: Riana Slyter - Admission Counselor
Email: slyterr@gonzaga.edu
Phone: 800.322.2584, ext. 6483 - or - 509.313.6483
Hometown: Kent, WA
Degree: B.A. Communication Studies with minors in Entrepreneurial Leadership (Hogan Program) and Promotions - Gonzaga University
Territories: Idaho, Kansas, Western Washington (from Seattle up to the Canadian border)
Why are you in admissions at Gonzaga?
My education at Gonzaga has been something I value as it has transformed the way I think, live, and interact with others. Coming back to Gonzaga as an Admission Counselor has given me a great opportunity to talk about a place I love, a place that has made me become a critical thinker, strong communicator, and creative visionary. I have the privilege of walking alongside prospective students during a time of difficult discernment. I work to provide clarity in an ambiguous process while building relationships with students throughout their interaction with Gonzaga. I love that I get to be a part of the lives of future Zags!
Where is your favorite place on campus?
The apex in the Jundt Art museum is probably my favorite spot on campus. It is in a reflective location with a beautiful outdoor view as you stand beneath Chihuly's master piece, The Red Chandelier. I have a connection to the building as I took many art and film classes that have fundamentally changed my outlook on life. The apex has always been a reminder to me of contemplation, beauty, and reflection as this space has been an intersection for some of my most transformative moments at GU.
What is your favorite thing to do in Spokane?
I love rock climbing and there is a really great gym downtown called Wild Walls that I go to multiple times a week. I take yoga classes and then go climb! It has been a new passion that has become a great addition to my normal workout routine. The goal is to one day start outdoor climbing. The Great Pacific Northwest is a wonderful place to stay active and find unique ways to get outdoors.
What is one piece of advice you have for prospective students?
I would say to spend time finding and developing your passion. Become an expert in what you love and actually the more niche the better! Focus on what you are interested in and more directly why you enjoy it. When you identify your passion you will be able to find a place that can harness your unique interests to reach your future goals and aspirations. Then you can take time to really imagine yourself at the University's you visit. Listen to the conversations, observe the demeanor of the students, but more importantly picture yourself being at that specific university- the place that can combine your passion with resources and connections for a successful future.