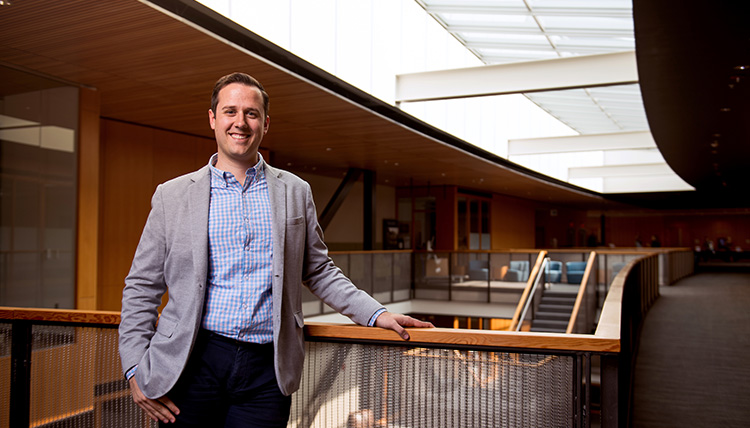 Name: Michael Sass - Assistant Director of Admission

Email: sass@gonzaga.edu
Phone: 800.322.2584, extension 6483 - or - 509.313.6483
Hometown: Sammamish, WA
Degree: M.A. Organizational Leadership - Gonzaga University
B.B.A. Law & Public Policy and Entrepreneurial Leadership - Gonzaga University
Territories: Alaska, Washington (Seattle to Canada excluding Seattle proper), and Kansas
Why are you in admissions at Gonzaga?
Education has always been a great passion of mine, and I greatly enjoy helping others access the same educational opportunities with which I have been blessed. My years at Gonzaga, both as a student and as a staff member have shaped who I am. Working in the Office of Admission at Gonzaga is a perfect way to help others experience similar growth.
Where is your favorite place on campus?
The Hemmingson University Center is my favorite place on campus. It is the hub of student life on campus from the Center for Student Involvement to the Office of Mission and Ministry, and even houses many of the great on campus eateries like Starbucks and the COG dining hall.
What is your favorite thing to do in Spokane?
I love to explore the outstanding food options around Spokane. There are a lot of great places to eat out, whether spending a relaxing weekend morning reading in a coffee shop like Paper + Cup in Kendall Yards or the Rockwood Bakery on the South Hill to enjoying dinner out at one of the great eateries including Bangkok Thai and Perry Street Pizza.
What is one piece of advice you have for prospective students?
Take advantage of the different resources at your disposal, especially the admission counselors at the schools you are considering. Finding the right college is a difficult process, but we are here to help you learn more about your college options and hopefully demystify the process. Pick up the phone, send an email, reach out and let me know how I can help your college search.