GSBA President's Council
---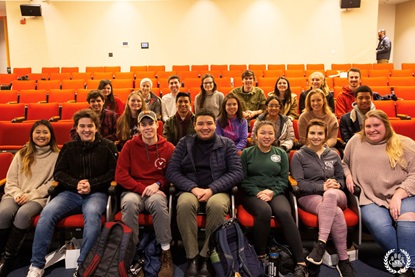 End of Semester Report: Presidents Council End of Semester Fall 2018 Report
The GSBA President's Council consists of several university committees, councils, and boards across our institution. The President's Council serves as a liaison between the Student Body President and the staff, faculty, and administration within the university committees. The President's Council meets 4 times a year: October, December, February, and April.
Getting Involved: Applications for the 2021-2022 President's Council will be released in September 2021. Stay tuned for more information!
Academic Council
The Academic Council discusses programs, curriculum, policies and procedures concerning the Division of Academic Affairs. Representatives serve on one of four subcommittees: Assessment, Policy and Planning, Curriculum, and Program Review.
Trent Smiley tsmiley@zagmail.gonzaga.edu
Gunnar Ingle gingle@zagmail.gonzaga.edu
Maddie Simmons msimmons2@zagmail.gonzaga.edu
Joseph Kannathumadam jkannathumadam@zagmail.gonzaga.edu
Academic Integrity Board
The Academic Integrity Board consists of faculty, undergraduate, and graduate students who are responsible for formulating the new Academic Integrity Policy and reviewing violations to the University's academic integrity policies.
Larissa Caldeira lcaldeira@zagmail.gonzaga.edu
Kathryn Sorenson ksorenson@zagmail.gonzaga.edu
Athletic Council
The Athletic Council provides guidance and assistance to the University President and the director of Athletics regarding all aspects of the University's intercollegiate athletics, intermural programs, and recreational sport offerings. This council serves as the conduit for information, questions, and concerns between Athletics and the student body.
Hannah Johnson hjohnson11@zagmail.gonzaga.edu
Emily Arnesen earnesen@zagmail.gonzaga.edu
Council of Equity, Inclusion, and Intercultural Awareness
The Council of Equity, Inclusion, and Intercultural Awareness discuss and implement changes on campus issues of equity, inclusion, and intercultural awareness.
Noah Alvarado salvarado@zagmail.gonzaga.edu
Tara Phung tphung2@zagmail.gonzaga.edu
Michael Tanaka mtanaka4@zagmail.gonzaga.edu
Daniel Rosales drosales@zagmail.gonzaga.edu
Green Fund Council
The Green Fund Committee deliberates on the operation of the Green Fund by evaluating applications, dispensing funds, and reporting on the implementation of student-led sustainability initiatives.
Niko Peters npeters3@zagmail.gonzaga.edu
Marisa Montesi mmontesi@zagmail.gonzaga.edu
Molly Condon mcondon@zagmail.gonzaga.edu
Parking Citation Review Board
The Parking Citation Review Board resolves disputed parking tickets, increases transparency, and ensures fairness through contest ticket review by a panel of peers.
Gabe Terry gterry@zagmail.gonzaga.edu
Security Council
The Security Council discusses safety issues and general campus security.
Brandon (Duey) Duax bduax@zagmail.gonzaga.edu
Samuel Hendricks shendricks@zagmail.gonzaga.edu
Sophia Zink szink@zagmail.gonzaga.edu
Student Advisory Board of Foley Library
The Student Advisory Board of Foley Library discusses and advises on issues that affect the student experience at the Foley Center Library. The library will solicit advice from students in order to enhance library resources, spaces, and services.
Briana Hermsmeyer bhermsmeyer@zagmail.gonzaga.edu
Emily Lussier elussier@zagmail.gonzaga.edu
Janessa Tolman jtolman@zagmail.gonzaga.edu
Gabrielle Schmidt gschmidt2@zagmail.gonzaga.edu
Student Advisory Board of the Hemmingson Center
The Student Advisory Board of the Hemmingson Center assists in providing planning, feedback, and opportunities to engage the entire Gonzaga community. The board advises GUEST with space uses, needs and governance, community event planning, and program development.
Lily Copeland lcopeland@zagmail.gonzaga.edu
Abby Serbousek aserbousek@zagmail.gonzaga.edu
Macy Ryan mryan6@zagmail.gonzaga.edu
Sofia Daly sdaly2@zagmail.gonzaga.edu
Student Media Board
The Student Media Board is the governance board for student media that oversees the Gonzaga Bulletin, Spires Yearbook, Charter Journal, One World Journal, and Our Voices Journal.
Biridiana Rodriguez brodriguez@zagmail.gonzaga.edu
Anderley Penwell apenwell@zagmail.gonzaga.edu
Ryan Nguyen gsba-director-comm@zagmail.gonzaga.edu
University Budget Committee
The University Budget Committee members serve as a liaison between GSBA and the financial offices at Gonzaga.
Maurie Harbick gsba-treasurer@zagmail.gonzaga.edu
Sara Hutton gsba-financial@zagmail.gonzaga.edu
Undergraduate Professional Development Grant Committee
The grant committee assists in selecting recipients of the Undergraduate Professional Development Grant. The UPDG is a student-run initiative that provides funding opportunities for professional development towards students who identify as first-generation/low-income. Some of these items include fees for tests, flights to/from conference, attire for interviews, and more. The UPDG provides access to these opportunities that are essential for students' competitiveness and success post-graduation.
My Lien Truong mtruong2@zagmail.gonzaga.edu
Natalie Sparks nsparks3@zagmail.gonzaga.edu
Monica Elenes melenes@zagmail.gonzaga.edu
Harry Smith hsmith5@zagmail.gonzaga.edu
Jamie Flores jflores3@zagmail.gonzaga.edu