Center for Student Involvement Student Staff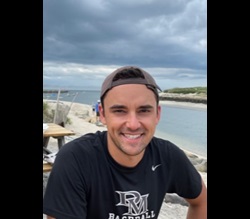 Daniel Kireopoulos
Student Assistant
Email: getinvolved@gonzaga.edu
Who is Daniel?
In Fall 2021, I will be a senior at Gonzaga studying Political Science and Leadership. I have worked in the Center for Student Involvement for three years and I also serve as the Vice President of Kennel Club. I have been a small group leader and participated in different events held throughout Gonzaga's campus. I hope to attend law school one and eventually make a lasting impact on my community. I am looking forward to senior year and all the opportunities that will be available for the Gonzaga community.

During my free time, I enjoy longboarding through the Logan and downtown Spokane, playing basketball at the many local basketball courts, and spending time with my close friends swimming on the Spokane river or Lake Coeur d'Alene. My favorite places to eat in Spokane are Wisconsin Burger and Our Thai House. Basketball games and other community events are my favorite things to do at Gonzaga throughout the school year!
---
Kehau Gilliland
Student Assistant
Email: getinvolved@gonzaga.edu
Who is Kehau?
I am a senior, studying Nursing and Critical Race and Ethnic Studies. I have been working at the Center for Student Involvement for nearly two years. I hope to pursue a nursing career in the PNW with the main goal of going back home to help the people of O'ahu, Hawai'i.
Outside of school and work, you can find me trying different restaurants and coffee shops around Spokane. I love seeing what kinds of foods that city has to offer. I also enjoy hanging out with friends and snowboarding in the winter.