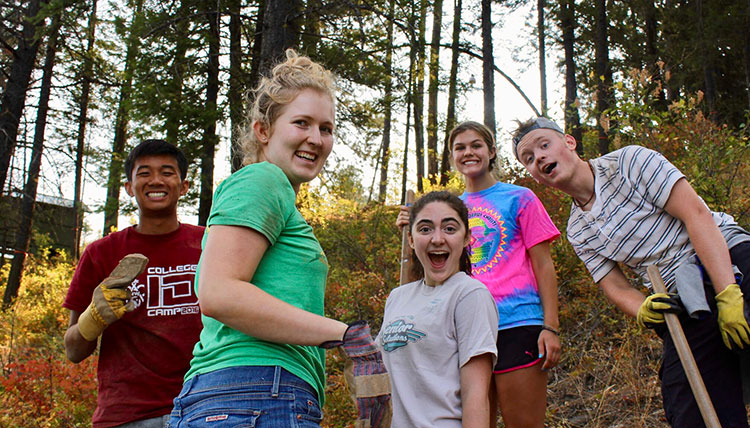 1. When is Reality Camp?
Reality Camp runs Sunday through Thursday prior to New Student Orientation (August 18 - 22, 2019). Students are expected to arrive for check-in on Sunday, August 18 between 9 a.m. - 12 p.m..
2. What is service immersion?
Service immersion is an in-depth, engaging learning experience focusing on social justice issues. These experiences foster cultural awareness, solidarity, and social responsibility through engaging in the community, learning, and reflection.
3. What will I be doing?
We will be volunteering at community organizations each day to learn about the Spokane community and support local nonprofit organizations. Past activities include helping at a homeless shelter, working in a community garden, playing soccer with youth, and working with individuals with disabilities. We will spend one night at Camp Cross on Lake Coeur d'Alene volunteering at the campsite and enjoying the lake.
4. How do I register?
Saturday, May 18, 2019 a link to register for Reality Camp will be available on the Pre-Orientation website. Registration is first-come, first served. The cost is $125 for the five-day program, which includes meals, housing, various activities, and t-shirts.
5. What can I expect?
The Reality Camp experience focuses on the concept of simple living through intentional choices about our use of food, transportation, water and technology. With this in mind, we will eat a simple diet and limit our use of phones, iPods and other electronic devices. Food allergies and special needs will be accommodated.
6. Where will I be sleeping?
Students will stay in on-campus housing with the exception of one night off campus at a camp in Idaho. Living accommodations will be basic and students will sleep on the floor in the common areas of the residence hall. Student leaders and CCE staff will be present each evening.
7. When do I need to be in Spokane for Reality Camp?
All participants are expected to arrive in Spokane on Sunday, August 18, 2019 between 9 a.m. - 12 p.m. for check-in. We will finish our activities in the evening on Thursday, August 22 in time for New Student Orientation on the following day.
8. Am I responsible for getting to Gonzaga?
You are responsible for getting to Spokane. For those students arriving at the airport, we will provide van shuttle service to get you to Gonzaga's campus. If you arrive outside of the specified arrival period, you are responsible for coordinating your transportation arrangements to Gonzaga's Campus. For those driving, you will receive further instructions after you register as to the designated meet up point.
9. When can I check into my residence hall room?
Students can pick up their keys at check in on Sunday, August 18 from 9 am to 12 pm. There are multiple options for arrival: you may either move into your residence hall prior to Reality Camp on August 18, after Reality Camp on August 22 or with the remainder of the incoming class on August 23.
10. Does Reality Camp have a parent orientation?
Reality Camp does not host a parent orientation. Parent and Family Orientation is during Orientation Weekend Friday, August 23 - Sunday, August 25, 2019.
11. What are the goals of Reality Camp?
To introduce incoming students to Gonzaga and the Spokane community.

To explore GU's mission and values including service with and for others.

To learn about service, social justice, and self by participating in activities on and off campus including individual and small group reflection.

To build community among incoming first year students, faculty, staff, student leaders, and members of the Spokane community.

To raise awareness about social justice issues that affect the Spokane community.

To develop skills working with diverse individuals and groups of people.

To encourage incoming students to get involved on campus as volunteers and leaders.