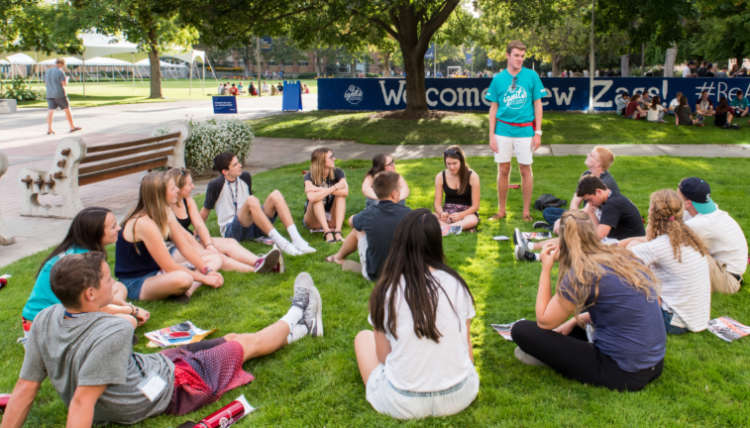 Orientation Leaders serve as the student ambassadors for Gonzaga University, New Student Orientation, Parent and Family Orientation and First Year Experience Program and Parent & Family Relations. They are instrumental in guiding our diverse first year, international, transfer, veteran and returning adult students during this important time of transition to life at Gonzaga University. As a Jesuit, Catholic institution, Orientation Leaders are vital in living out Gonzaga University's mission where we "educate students for lives of leadership and service for the common good." It is a volunteer position that provides important leadership opportunities.
Orientation Leader Positions:
Small Group Leaders are in charge of leading a group of roughly 12 - 15 new students during Orientation Weekend as they begin the process of transitioning to life at Gonzaga. They will facilitate activities and discussions within their Small Groups and will participate and assist with various events throughout Orientation Weekend.
Super Group Leaders are in charge of leading a group of 10 - 12 Small Group Leaders. They are the primary line of communication between First Year Experience Programs and Small Group Leader and Event Leaders. They will assist with various events throughout Orientation Weekend and will also help facilitate Orientation Leader Training prior to Orientation Weekend and will receive several days of extra training in preparation for this responsibility. They also will assist with logistical operations throughout Orientation Weekend.
Parent and Family Orientation runs congruently with New Student Orientation offering events, informational sessions, and socials for new Gonzaga families. Parent and Family Crew is a team of 30 student leaders and assist the Parent and Family office with all aspects of Parent and Family Orientation. They serve as a resource and guide to incoming parents and families. In addition, they may support first year students and orientation leaders with additional events.
For more information, please feel free to email
familycore@gonzaga.edu
or stop by Parent and Family Relations, Crosby 022 Monday - Friday from 9 a.m. - 4 p.m.