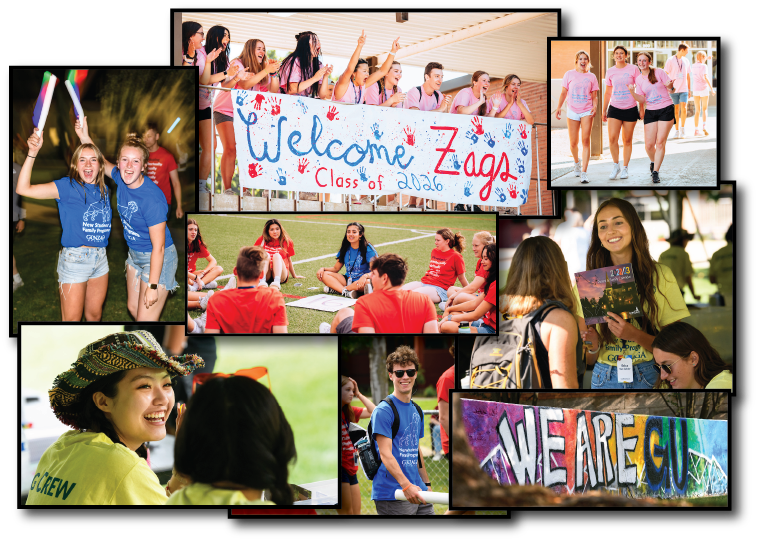 New Student & Family Programs (NSFP) is currently hiring Orientation Leaders (ZagCrew) for the New Summer Orientation Model! All positions are PAID and INCLUDE HOUSING for the month of July (August as needed).
Information Sessions, including FREE PIZZA, are scheduled in Hemmingson Auditorium on:
Wednesday, November 30th at 12 PM
Tuesday, December 6th at 5 PM
Wednesday, January 18th at 12 PM
The New Student & Family Programs' Orientation Leaders are responsible for facilitating successful New Student and Parent and Family Orientations. Orientation Leaders work to create an inclusive environment that enhances the growth, development, and empowerment of new students and their families.

OLs are required to work during all New Student Orientation sessions as listed:
Session 1: July 12-14, 2023
Session 2: July 16-18, 2023
Session 3: July 19-21, 2023
Session 4: July 23-25, 2023
Session 5: July 26-28, 2023
Session 6: August 23-25, 2023
Welcome Weekend, August 25-28, 2023
Applications are Due by January 25th!
If you have any questions, please contact us at nsfp@gonzaga.edu or by phone at (509) 313-5399.
What Past ZagCrew Members are Saying
"To put it simply, joining ZagCrew 2 years ago was the best decision I have made since deciding to attend Gonzaga University. Students often talk about Gonzaga as being 'a home away from home', and I believe that being a part of a team like ZagCrew is one of the primary reasons why I call this community my second family".
- Cole Walchenbach | Class of 2020 | ZagCrew and Core Team

"PFC is one of Gonzaga's hidden gems. It's not intentionally hidden but its just not as well known as other involvement opportunities on campus. But those students who manage to join the "family" are in for a treat. The training as well as orientation itself are defining moments at my time here at Gonzaga… Sure orientation weekend is long and tiring, but it was easy to keep going knowing that we were having the most fun out there and anyone who walked by could clearly see our love for Gonzaga".
- Rodrigo Vazquez | Class of 2019 | ZagCrew

"Through PFC, I found a family. You are going to be welcoming families and parents to Gonzaga but I did not expect to find a family on my own through PFC. I love PFC because I was one of the people that helped convinced families that their students are going to be okay and I got to share my LOVE for Gonzaga with them. Showing new students and their families how amazing Gonzaga is can be very comforting for new families who care so much for their Zags"!
- Ciara Costanzo | Class of 2018 | ZagCrew

"Being a part of PFC is an extremely rewarding opportunity. Not only do you become part a tight-knit team, you get to connect with incoming students' families and support systems, many of which are going through a transition period that can be just as intimidating as their student's. Being able to answer questions, provide support when necessary, and have a great time dancing and bringing positive energy makes for a truly amazing experience".
- Ethan Durbano | Class of 2022 | ZagCrew