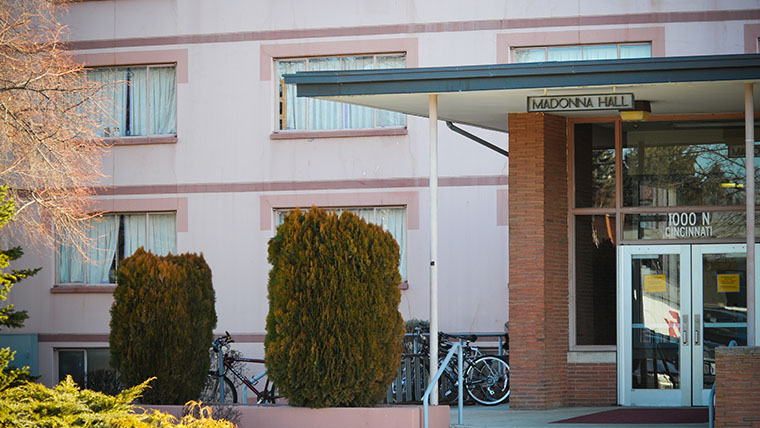 Madonna Hall is located at 1020 North Cincinnati Street.
Madonna, located on the east side of the Gonzaga campus, is a co-ed residence hall that houses about 120 students. Men and women live on separate floors with a kitchenette on each floor. The basement houses a large kitchen area available for all students, a recreational area, and easy access to the COG and Mulligan Field. The rooms in Madonna are spacious, have large windows, and sinks. Madonna residents traditionally form a strong community.
Co-Ed Hall
1st year students
Corridor Style Building
3 Floors
6 Wings
5 Resident Assistants and 1 Chaplain
Big Screen TV, two pool tables, one foosball table, one ping-pong table
Kitchenette on each floor, large kitchen in the basement and first floor, study room, 5 free washers and dryers
Ceiling Dimension: 8'
Carpeted Rooms
1st Floor
Lobby: two tables for studying with chairs, 2 couches and other chairs around a TV
1 kitchenette: microwave, fridge/freezer and sink, cabinet space
1 full kitchen: stove, fridge and freezer, table and chairs, cabinet space, sink, coffee table and two couches
Patio: 1 table and chairs, bike lockers
Basement
Pool table
Large dining table and chairs
Ping pong table
TV with couches
Kitchen: stove, fridge and freezer, cabinet space, microwave, toaster, res life dishes
Floorplans
Note: These rooms have moveable furniture. The dimensions are approximate. Exact dimensions may vary slightly.
Additional Photos