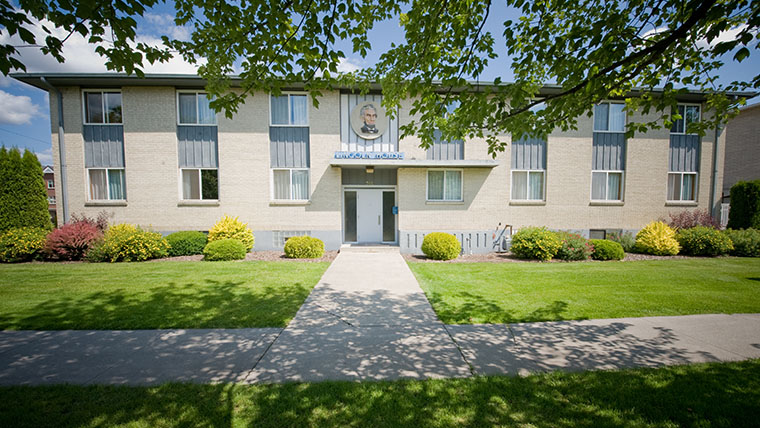 Lincoln House is located at 701 East Boone Avenue.
Located near the center of campus, Lincoln provides a community that welcomes a close, supported and fun living experience. This two-story building houses up to forty residents, and is ideal for a study-friendly, yet social and active atmosphere. Lincoln is located at 701 East Boone Avenue.
Biology living-learning community for first year residents
Traditional corridor style
2 floors
2 wings
1 Resident Assistant
TV, pool table, Foosball table, ping pong table
Study room, main lobby, kitchen, laundry room (2 washers, 2 dryers)
Ceiling dimensions: 8'9"
Carpeted floors
Basement
TV Lounge: 3 three person couches, a wall mounted flat screen tv and a DVD player
Kitchen: table, fridge, microwave, and various kitchen utensils
Classroom: tables for work, whiteboard, tv, and various reference books
Game Room: 2 love seats, 3 recliners, ping plays no table, pool table, foosball table, piano, and drink vending machine
First Floor
Two 3-person couches
Chair
Two tables
Floorplans
Note: These rooms have moveable furniture. The dimensions are approximate. Exact dimensions may vary slightly.
Additional Photos