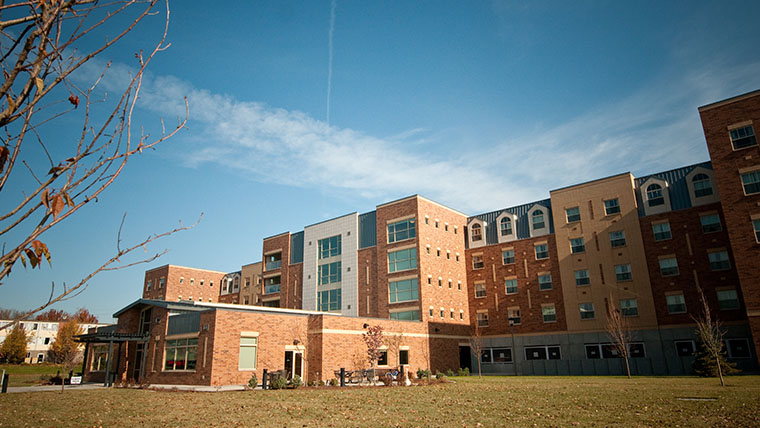 Coughlin Hall is located at 816 Cincinnatti.
Coughlin is the main Living Learning Community on Gonzaga's campus. The community is social and lively, but also respectful for students who are focused on their studies.
Coed Building
1st year students
Traditional Corridor
4 floors plus a lobby
8 wings
Currently houses a Graduate Residence Director, an Area Coordinator for lower division housing, and a Faculty in Residence
Each wing has a centralized common space, bathroom, and laundry facilities
2nd floor has a kitchen, music room, piano, study lounge, and TV room
3rd floor has a kitchen, dining room, game/TV room, and a study room
4th floor has a kitchen, dining room, library, and TV room
5th floor has an expanded kitchen, game/TV room, and a study room (Note: some rooms will have a 20 inch gap between the wall and bed when lofted)
The lobby has a classroom, front desk, and offices for the Assistant Director of Residence Life and Graduate Residence Director.
Two common areas with couches and/or individual seats.
One floor common area with a vending machine, ping pong table, pool table, checkers table, TV, couches, individual chairs, and a shuffle board.
Hall space near the entrance to the stairway with four chairs and two end-tables.
Kitchen with a refrigerator, sink, oven w/ stove top.
Dining area with large dining table and 10 chairs as well as large counter space and dresser.
Room on the side with two couches and a TV.
Note: Coughlin Hall is available to those who submit a supplemental application and are chosen to participate based on a subjective review of that supplemental application.
Floorplans
Note: These rooms have moveable furniture. The dimensions are approximate. Exact dimensions may vary slightly.
Additional Photos