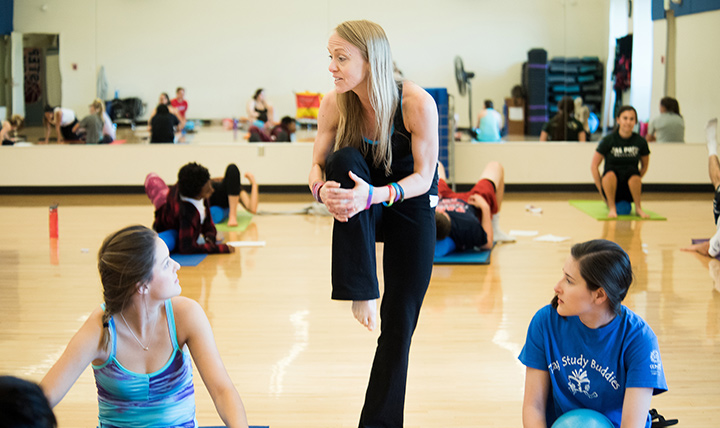 The following classifications within the Gonzaga Community are eligible for membership:
Student (undergraduate, graduate, law and part-time)
Faculty/staff (full-time and part-time)
Spouse/dependents
Current Gonzaga Undergraduate Students
Fee: Required $95*/semester activity fee
Current Graduate, Law and Part-time Undergraduate Students
Fee: $150*/semester
Process: Must go to Student Accounts in College Hall Room 24
Current Faculty & Staff
Fee: Free benefit
Family Memberships
Spouse of current GU Student, Faculty & Staff Fee: $150*/semester
Spouse & Dependents of current GU Student, Faculty & Staff Fee: $200*/semester
Process: Complete the membership form and bring it to the RFC. If needed, Physician's Statement & Clearance form.
Guests of current faculty, staff, or students
Fee: $10*/day
Summer Memberships
Fee: $30*/semester
*Prices do not include tax.
Locker Rental
Fee: $10/locker/semester
Process: Lockers are available for rent by paying with cash or check at the front desk.
There are men's and women's locker facilities in the pool area. Locker rooms have restroom and shower facilities, as well as lockers and benches.
Day lockers may be used free of charge and are located on the first floor of the Fitness Center under the stairs. Patrons must bring their own locks and remove them by the end of the day.
Membership Fee Policies
The Rudolf Fitness Center is primarily for Gonzaga students, faculty, and staff. Children may use the pool and field house only during weekend hours. Only youth age 16 or older may use the cardiovascular and weight training equipment. Young children are not allowed to be left unattended.
Dependents must be high school age or younger to be eligible for family membership.
Spouses are included in family membership.
Additional Services
Basketball, Volleyball and Racquet Rentals
Ice for injuries
Body Composition testing