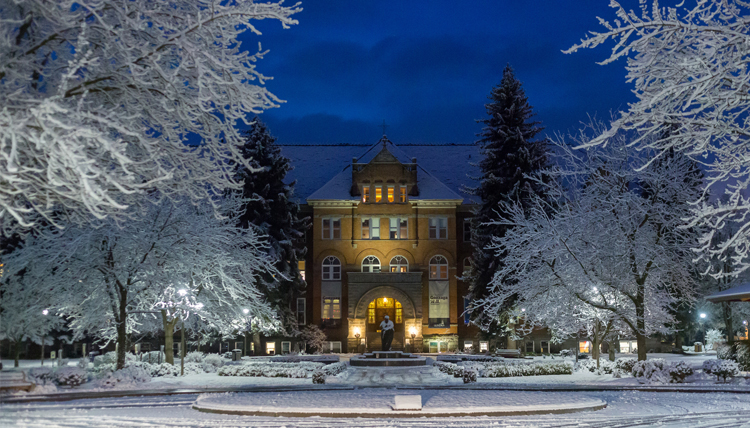 In addition to the great resources available on campus, there are a number of resources available in the Spokane community to assist you with your personal well-being while you are at Gonzaga.
Health Ride
The Health Ride program through Health & Counseling Services assists Gonzaga University students with transportation to and from healthcare providers.
TYPES OF TRANSPORT AVAILABLE
Students may use the Health Ride for rides to healthcare appointments and for minor illnesses and injuries. Students with medical emergencies may not be transported by Health Ride. In these situations, students should call 911.
TRANSPORTATION DISTANCE
Transportation will be provided 5.0 miles from Gonzaga Health & Counseling Services (704 E. Sharp). The majority of healthcare services in the Spokane area are within this radius.
If transportation is required to a location that is more than 5.0 miles, students have the option to use two punches on their punch card for this ride (please see Cost section).
PICK-UP & DROP-OFF LOCATIONS
During the business day, students will be picked up at the Health & Counseling Services office. During evening and weekend hours, students may be picked up in the Gonzaga University area (defined as Mission Avenue to the north, Ruby Street to the west, North Superior Street to the east, and the Spokane River to the south). When returning to campus, students may be dropped off at any area within this radius.
FOR MORE INFORMATION & RESERVATIONS
To learn more or to schedule a ride, visit our website.
Find A Healthcare Provider
To find a physician in the Spokane area, there are a few steps you can take.
1.) Determine who is in your insurance network. Most insurance cards list a website that you can visit to get additional information about your plan. This typically includes a search feature where you can enter your specific plan and get a list of physicians who are in-network in the Spokane area.
2.) Visit medicare.gov and use their search tool to find providers in our area. This tool will also let you see a little bit of information about each provider.
3.) If you need to visit an urgent care center or local emergency department, we maintain a list of those services on our website.
Local Agencies
Please note, this is not a comprehensive list of agencies in Spokane, but rather a listing of those agencies we work with most frequently in our community. For more community resources, please visit www.spokanecares.org.
Catholic Charities - Counseling, Shelter, Childbirth Assistance, House of Charity
P: 509-358-4250
12 E. 5th Ave.
www.catholiccharitiesspokane.org
Christ Clinic/Christ Kitchen - Medical Care for Uninsured
P: 509-325-0393
914 W. Carlisle
www.christclinic.org
Frontier Behavioral Health - Counseling, Crisis Services
Crisis: 1-877-266-1818 (toll free number) 24/7 Regional Behavioral Health Crisis Line
Routine: 509-838-4651
107 S. Division
www.fbhwa.org
Lutheran Community Services - Sexual Misconduct or Assault
Crisis: 509-624-7273
210 W. Sprague Ave.
www.lcsnw.org/spokane
The Native Project - Medical Clinic, Behavioral Health, Dental Clinic, Pharmacy
P: 509-325-5502
1803 W. Maxwell
www.nativeproject.org
Second Harvest - Food Bank
P: 509-534-6678
1234 E. Front Ave.
www.2-harvest.org
YWCA - Domestic/Intimate Partner Violence
Crisis Line: 509-326-2255
930 N. Monroe St.
www.ywcaspokane.org
Local Support Groups
There are a number of support groups that meet regularly in the Spokane area. Support groups can be a great source of hope and healing for you or a friend who is struggling.
In addition to the below groups, there are a number of national organizations that facilitate electronic support groups and web-based meetings. These can often be located with a Google search.
Al-Anon - For families and friends of alcoholics. Multiple meetings each week. Schedule available here.
Alcoholics Anonymous - For those struggling with or recovering from addiction to alcohol. Multiple meetings each week, including on Gonzaga's campus. Schedule available here.
Celebrate Recovery - A Christ-centered recovery program for people struggling with addiction. Check out the website for more information. Meetings are held locally at Family of Faith Community Church.
Domestic Violence Support Group - A safe place to talk to other women who have experienced abuse in their relationships. For more information, visit this site.
In The Rooms - An online network of individuals recovery from addiction. More than one hundred online recovery support meetings. More information here.
Life After Loss - Support for individuals grieving the loss of a loved one. Multiple meetings each week. Schedule available here.
LifeRing - A network of those seeking to live in recovery from addition to alcohol or to other non-medically prescribed drugs. Meetings are available in an online format. More information available here.
Marijuana Anonymous - A community of people struggling with and recovering from marijuana addiction. In-person and online meetings available. A searchable schedule is available here.
SMART Recovery - For help recovering from all types of addiction and addictive behavior. In-person and online meetings available. More information here.
Women for Sobriety - Dedicated to helping women overcome alcoholism and other addictions. Please visit the website for more information.