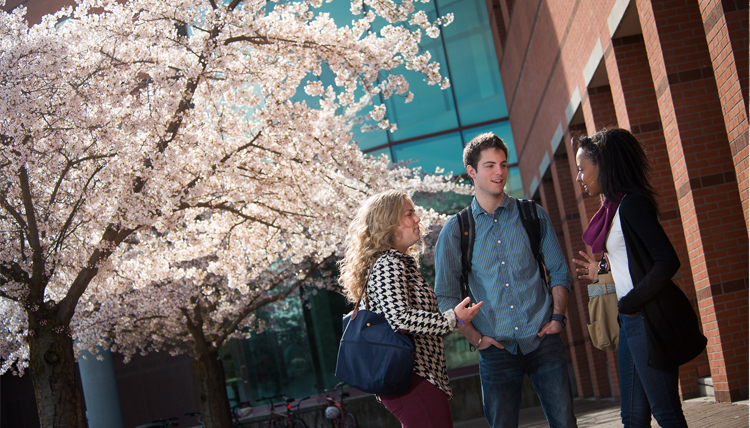 There are a number of on-campus resources available to support Gonzaga students throughout their academic careers. Below is a list of the resources you may use while at Gonzaga and a short description of the ways they can support you.
509-313-4072, advise@gonzaga.edu
Foley Center Library 122
Academic Advising & Assistance's goal is to help GU students succeed in their academics. Academic advisors collaborate with students who are struggling academically and help students create an academic plan to help move the student forward.
509-313-4234, careers@gonzaga.edu
Crosby Center, Suite 104
Career & Professional Development provides students and alumni with career support, opportunities and connections, translating the Gonzaga experience to meaningful life's work. They have resources, programs, and services for each phase of your journey. Career & Professional Development provide support by assisting in the career acquisition process, locating a job or internship, exploring careers related to majors and fields of study, and much more.
509-313-2227, ccp@gonzaga.edu
Crosby Center, Suite 216

The Center for Cura Personalis (CCP) serves students in many ways including interventions for students who may be struggling, referrals to on and off campus resources, and designated case managers to provide support for students who may need a little extra assistance along the way.
509-313-4134, disability@gonzaga.edu
Foley Center Library 209
The Disability Access office establishes accommodations for students with documented disabilities. Staff members Disability Access also support faculty and staff in providing accommodations for students. Students may work with this office to determine which accommodations are reasonable for their disability.
509-313-4052, studenthealth@gonzaga.edu
704 E Sharp Ave
Health & Counseling Services functions as students' private physician's office and counseling center. Board Certified Family Physicians, Psychiatrist, Psychologist, Nurse Practitioners, Registered Nurses and Counselors are here to give students expertise and care in a confidential setting. Clinicians are able to diagnose and treat illnesses, prescribe medications, provide psychological counseling, and support students with long-term health concerns.
509-313-4103, housing@gonzaga.edu
Crosby Center, Suite 201
Housing & Residence Life focuses resources and efforts on helping all students with their housing needs, both on and off campus. They provide staff, both student and professional, who live in community with residents in the on-campus residence halls. Resident Assistants and professional staff are on-call each day and can be reached by calling Campus Security and Public Safety at 509-313-2222.
509-313-4247, learningstrategies@gonzaga.edu
Foley Center Library 123

Learning Strategies works with students to develop strategies to enhance academic performance. They encourage self-determination, self-advocacy and accountability in students and educate them on: organization, planning, time management, goal setting, study strategies and more! Learning strategies staff offers workshops, individual sessions with a Learning Specialist, or participation in peer mentor strategy sessions.
509-313-5760, lgbt@gonzaga.edu
Hemmingson Center, Suite 213
The Lincoln LGBTQ+ Resource Center at Gonzaga University is inspired and guided by the university mission and values of faith, service, justice, leadership, and ethics. It aims to serve as a center for supporting community, networking, research, and education related to concerns shared by students, staff, and faculty of diverse sexual orientations, gender identities, and expressions.
509-313-4242, missionandministry@gonzaga.edu
Hemmingson Center, Suite 104
Mission & Ministry supports the faith development of all members of the Gonzaga community, regardless of religious affiliation and tradition. It provides opportunities and resources for spiritual growth and fellowship through retreats, service projects, liturgies, music ministry, small groups, spiritual direction, residence hall programs and more.
509-313-5923, ohp@gonzaga.edu
Crosby Center, Suite 206
The Office of Health Promotion (OHP) provides campus-wide health promotion initiatives that engage students in positive, holistic well-being practices and reduce high-risk behaviors. It facilitates the Zags Help Zags bystander intervention program. This office also provides consultation, training and education for the campus community on Mental and Emotional Well-Being, Healthy Relationships and Violence Prevention, Alcohol and Other Drugs, including the campus collegiate recovery community, OUR House (located at 1211 N. Cincinnati).
509-313-6582, finaid@gonzaga.edu
College Hall, Room 129

Within Student Financial Services, the Offices of Student Accounts, Financial Aid and Student Employment work together to help create a financial strategy using Institutional, Federal and State resources to help offset some of the financial responsibility families have in funding education. They work to make this process as understandable as possible and help make this financial challenge a reality.
Title IX protects any person from sex-based discrimination, harassment, or violence, regardless of their real or perceived sex, gender identity, and/or gender expression. Gonzaga University has a desire, as a compassionate institution, and a responsibility under federal Title IX regulations, to respond to reports of sexual misconduct and harassment. This office investigates, responds to, and works to prevent sexual misconduct and harassment.
509-313-5606, tvras@gonzaga.edu
Hemmingson Center, Suite 313
Transfer, Veteran, & Returning Adult Services acts as a central point of information and resources for transfer, veteran, or returning adult student at Gonzaga University. They are committed to supporting a successful transition to college for these students and connecting them to the services available at Gonzaga to support their educational journey.
509-313-5836, umec@gonzaga.edu
Hemmingson Center, Suite 215
UMEC provides educational opportunities that cultivate mindfulness, intercultural development and support the benefits of a pluralistic and inclusive environment. This office desires to meet the needs of a fluid demographic and provide the Gonzaga community with educational and social opportunities to raise cultural awareness.