Student Reflection
Molly Quillin '20
In November, a delegation of students from Gonzaga University traveled to Washington D.C. as part of the annual Ignatian Family Teach-In for Justice (IFTJ). Over 1,500 advocates from Jesuit schools, works, and parishes across the U.S. met with their representatives, calling for the care for our earth and humane migration policies.

The theme of this year's Teach-In, "Radical Hope, Prophetic Action," challenged our students to strive to find hope in the face of injustice and to have that hope fuel the action necessary to confront and transform that injustice.

Molly Quillin '20 attended the Teach-In as a delegation member, advocating for humane immigration reform. The following is Molly's reflection on her experience attending the Teach-In and advocating in Washington D.C.
---
The Ignatian Family Teach in for Justice is a conference for Jesuit works, high schools, universities across the country to come together, learn, and advocate on behalf of certain issue areas informed by our Ignatian identity. This year, the issue areas we focused on were humane migration and environmental justice. The Teach-In consisted of keynote speakers and main stage speakers who had experience working within these issue areas (members of the clergy, laypeople, professionals in the field, and students) talking to us about how we can focus on specific policy preferences from our Catholic-Jesuit standpoint and also from a practical policy standpoint. That's where the advocacy part comes in.
We had a conference that was two days long - Saturday and Sunday. On Monday, we went to Capitol Hill to advocate for each of these policy preferences. My group advocated for humane migration reform with Senator Murray's office and then the other half of our delegation advocated for environmental justice with Representative Kathy McMorris Rogers' office.
I'm a political science major. Being in the room with the legislative correspondent who was working on immigration issues specifically, it was incredible to be able to advocate for something we were passionate and knowledgeable about and have a conversation with someone who's working on this kind of legislation everyday about why human migration reform should be a priority for Senator Murray. I really enjoyed being in that space and getting to know the woman we were talking to, and I think the value of doing this is that you get your voice heard as a constituent. Whether you know it or not the things they vote for affect you, so having some say in that process was really powerful. It was such a privilege to be able to go be physically in the room, in that space, instead of miles away just calling your representatives - which is also a totally powerful and viable way to get to know the legislative process. But being in D.C. and being in the room with this legislative director on immigration policy was so powerful. To know that she was hearing our voices and shared similar goals and was going to try her best to continue policies of humane immigration reform was incredible.
We were really privileged because we were 4 political science majors, so we all had a very solid base of what we were talking about and had a very solid history of what we were talking about. Three of us were in the course "Immigration Politics and Policy" this semester so we really had a background of what immigration reform could look like. Immigration reform is sort of a buzz word but we were advocating specifically for protections of vulnerable populations. There are a couple of bills right now that are in the Senate that have really specific language about protecting vulnerable population (women, LGBTQ+ people, children, people who are victims of sexual assault or violence) that we hadn't seen explicitly protected in other bills. I personally felt really confident in our group and in our selves that we knew what we were talking about.
For me it was really cool because my high school was there. I got to go to this conference when I was in high school, so it was like seeing the next generation of social justice advocates and people engaged in policy work at my high school in Portland. I think that seeing high school students engage with what was being talked about (intersectionality, critically interrogating privilege, environmental justice, and migration reform), it was so cool to see their faces light up and get so excited about certain ways that speakers framed this policy work in an intersectional way. For us as university students, we've been exposed to conversations about intersectionality, and felt at times that we already knew what was being shared. But for the high school students, these concepts were being shared to them for the first time, so it was so cool to watch them get really excited about it all. It's interesting to see their journey and process of developing critical lenses and ways of explaining their policy preferences. It was powerful to be there alongside them, and ally with them, and support each other in what we're advocating for.
I am Catholic, and I think my faith calls me to do justice work. It felt really exciting to hear people like Sister Peggy O'Neil S.C. give a wonderful keynote about her work in El Salvador. The work she shared was very pluralistic and based in justice rather than solely in a faith-based perspective. I loved seeing the intersection of faith and justice and rallying around these people who felt very similarly. That what our faith calls us to do, to advocate for more justice for the most people. That's something we can welcome everyone into—it's not just for Catholics, which really resonated with me. Many of our speakers weren't Catholic. It was wonderful to hear that the Jesuits especially are so pluralistic in their motivations for securing justice for all, it's not just for people who identify as Catholic but that equality and equity is for everyone.
I've always thought about applying to the Jesuit Volunteer Corps, and thought that that was something I'd fit really well in. After the weekend in D.C., I felt even more called to be a part of the Jesuit Volunteer Corps (JVC), so now I'm applying, but with a different vigor. I'm actually really excited about the potential of living simply in community with people and advocating and standing on the margins with people who have been marginalized in our society and helping a community achieve their goals—not coming in and saying "these are my goals and I'm going to achieve them"--but asking "what are your goals and how can I help you get there?" I'm really excited about applying for JVC and seeing what that looks like and what it could turn into for my future career. I feel very called to public service in general and I've always felt very called to public service ever since I lived abroad in high school I've always noticed people who are for and with others and dedicate their lives to doing that and I think that IFTJ was a very concrete reminder of how I can actually be a person for and with others for my career—how to dedicate myself to public service. I think JVC will be the first step in that, and JVC focuses a lot on the intersection of faith and justice and how we can use our faith to motivate us and drive us toward a more just and equitable world. That was exactly my take away from this weekend.
I'm in two really great classes right now that I feel connected to my experience at the Teach-In: "Intersectional Communications" and "Immigration Politics and Policy". Things that I was learning in those classes really connected to the work we were doing in IFTJ, and making sure that, in everything we were approaching, we were considering the "multiply-burdened" and not looking at things from a single-axis framework. Deeply considering how we can apply an intersectional lens to encapsulate more identities and center more identities rather than only centering the "mythical norm," as Audre Lorde would say.
Another class I took was "Inter-religious Dialogue" with Dr. Sheveland. It was such a wonderful course dedicated to approaching conversations with empathy and acknowledging the people you're talking with are human and have humanity. IFTJ did a great job of highlighting empathy, centering dialogue, and making sure we approach all conversations with understanding and compassion. That work of empathy I learned in inter-religious dialogue connected with IFTJ and hopefully my future career as a public servant.
For people considering applying, I would absolutely recommend the experience overall. The experience of the weekend was so fulfilling and exciting. Especially for people who are going to be seniors. To view this experience as an opportunity to explore my future career goals was the most exciting part of the trip for me. I really want to do this kind of work all the time. I don't want it to just be one weekend of my life I want it to be all of my life. So I think anyone considering public service or post-graduate service should consider going because it's so based in pluralism and accepting all faiths and letting all faiths and backgrounds motivate. Whatever motivates you to do justice work, harness that, and utilize that to do justice.
---
*Since this story was published, Molly has accepted a position in Detroit, MI through the Jesuit Volunteer Corps.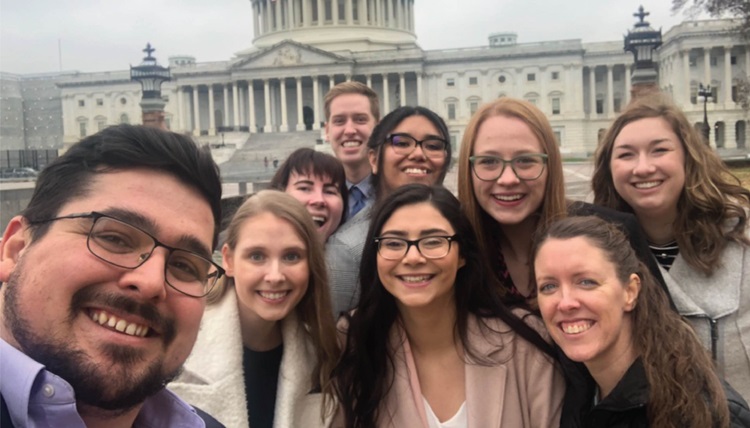 Molly Quillin (right) poses with Gonzaga delegation in front of the Capitol Building.