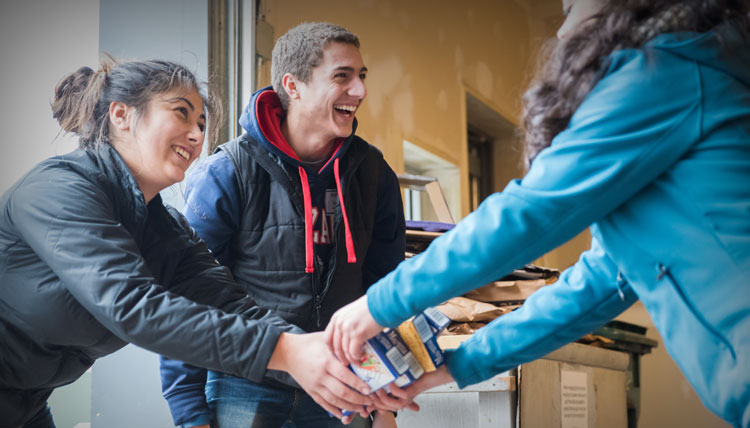 We offer a variety of opportunities to serve your community. Gonzaga will help connect you with programs and partners that align with your passion. Whether you want to mentor the next generation of Zags, work for positive change in Spokane, or make a global impact, there is a place for you to serve. Explore the options below and at our service website.
COVID-19 Update
While our current context has placed many barriers to in-person community engagement activities during the COVID-19 pandemic, there is still a great need and opportunity to collaborate with our community partners in positive and meaningful ways through hybrid, remote, and virtual community engagement activities. 

As you search for opportunities to engage with the CCE through our website, please note that many of our programs and community partners will be offering opportunities that are altered from their regularly scheduled activities to reflect the reality of our current moment. We are excited to assist you in finding ways to meaningfully engage with our community this year and are available as you have questions about programs. 

To connect, please contact the CCE:

CCE Main Office Phone: (509) 313-6824 

CCE Main Office Email: serve@gonzaga.edu  

CEL Virtual Help Desk: [Link to Hours]
Program & Service Opportunities
Due to the ways that programs have been re-imagined to align with our current context, our traditional CCE programs have fewer spots for student volunteers. You can check out what's currently available at the top of our volunteer application. Volunteer applications are now open for the fall semester. If the program(s) you are interested in are full, please fill out this interest form so we can be in touch if new opportunities arise. We'd love to have you involved as soon as it is possible!

To become a volunteer for our CCE programs apply using this link: CCE Volunteer Application
Additionally, this year's Ignatian Family Teach-In for Justice (IFTJ) will be held virtually from October 19th – 26th to provide students the chance to connect with peers from across the country around topics ranging from environmental justice and racial justice, to immigration and criminal justice reform. In collaboration with offices across campus, we are able to offer a limited amount of FREE tickets to students interested in attending the conference. Applications will be considered on a rolling basis through Wednesday, September 30. For questions about the Teach-in please contact Darcy Phillips at phillipsd@gonzaga.edu. Apply for IFTJ using this link: IFTJ Application
If I am Undocumented, am I eligible to volunteer through the CCE and its programs?
The CCE is committed to supporting students of all ethnicities and nationalities regardless of immigration status. Undocumented students are welcome to serve in many CCE Programs and at Community Engaged Learning (CEL) sites supported by our Center for Community Engagement.

Please review background check requirements provided at the start of the semester. If you have any questions about the background check requirements for a specific CCE Program or Community Engaged Learning (CEL) site, or if you have questions about whether your immigration status would disqualify you for a particular program or site, we encourage you to contact the CCE. Some sites/organizations may have alternative options that do not require background checks. The CCE can connect with the community partner organization on your behalf, keeping your information confidential, and share their response with you. Student questions regarding background checks and immigration status will be kept confidential by CCE staff.
Other Opportunities to Engage
These opportunities to engage with the CCE and in our community are a great way for you to get involved right away. We have included some ways our Gonzaga Community can show up for our community members during this challenging time.
CCE Training Opportunities
CCE Book discussion
CCE's Arrupe Engagement Pathways and Topic Series Sessions
Food Access & Basic Needs
Second (2nd) Harvest increased their food supply and distribution efforts in response to the increased need for food. There are several ways to help: 
Communities In Schools provides wraparound support to youth in many of our local schools and is continuing to support youth during school closures by supplying food, hygiene products, school supplies, and case management
Financial Support: Donate to Tools2Schools to help students in Spokane County have equitable access to online learning. This year, the Tools2Schools effort will not only be focused on providing students with traditional school supplies, but also looking at opportunities to support internet connectivity for students who do not have access to fast or reliable internet service.
Catholic Charities offers several ways to provide assistance during this time.
Non-Profit Partner Opportunities
Check out other ways to support our community through our Gonzaga Connected volunteer hub at: Gonzaga Connected or visit United Way's Volunteer Spokane volunteer hub at: www.volunteerspokane.org or https://www.unitedwayspokane.org/COVID19Resources
Learn More
Learn more about our community and the CCE's engagement efforts below.