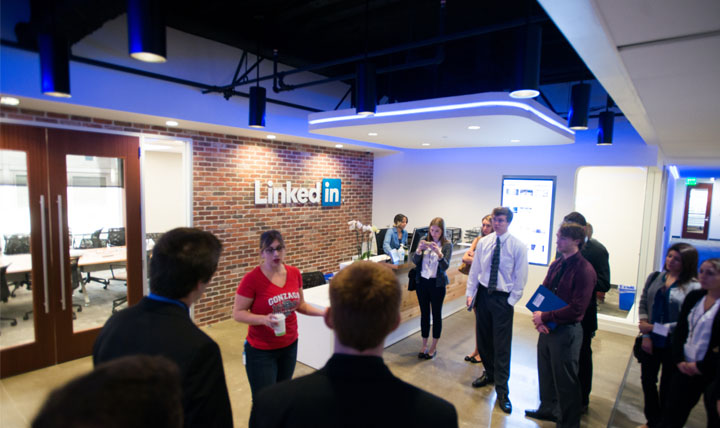 Online Resources
Handshake
Gonzaga University's job search and recruiting platform where students can find solutions to career development needs, schedule individual career advising appointments, register for upcoming events, and more.
InterviewStream
Practice your interview skills by video recording yourself answering a variety of questions on InterviewStream. Then watch your interview and score yourself using a rubric and scorecard.
ZagsConnect
Gonzaga University's mentoring & networking platform, building professional connections within the Gonzaga community of students, alumni, and friends. Join today to connect with alumni and friends of the university.
What Can I Do With This Major...?
Are you asking "What Can I Do With This Major...?". Access this database of career paths common to various majors.

CareerShift
Winner of the prestigious Career Innovator Award, CareerShift saves time while putting you in complete control of your career and job search. With CareerShift, you'll find the companies, jobs and contacts to assist you pursue career opportunities. CareerShift provides all the on-line tools and links to keep you organized for success. Sign up using your @zagmail.gonzaga.edu email address.
iNet
Join iNet, an internship recruitment consortium created and shared by: Duke, Georgetown, Gonzaga University, Harvard, MIT, NYU, Northwestern, Rice, Penn, USF, USC, and Yale. Find internship opportunities with high-profile and industry leading organizations. Create an account using your @zagmail address. Once your account is created, you will receive an email asking you to verify your address. a CPD staff member will approve your request within 48 hours of verification, grating you access to iNet.
GoinGlobal
GoinGlobal provides country-specific career and employment information, including world-wide internship and job postings, H1B employer listings, corporate profiles, and career resources for 30 countries.

GlassDoor
This is a unique link for Gonzaga students allowing them to access the entire unlocked GlassDoor site without requiring students to register for the own accounts. GlassDoor is a free career community that offers the world an inside look at jobs and companies. What sets GlassDoor apart is the "employee generated content" – anonymous salaries, company reviews, interview questions, and more – all posted by employees, job seekers, and sometimes the companies themselves. With nearly 3 million salaries and reviews, you can access all the information needed to make a career decision.
Health Care Job Search
LiquidCompass' technology indexes and analyzes healthcare job openings nationwide on a daily basis. This real-time database helps jobseekers find jobs with unprecedented efficiency. For healthcare employers we provide a new source of clinical and non-clinical candidates, in addition to unparalleled national and local market intelligence tools, benchmarks and reports.
Case Studies
McKinsey offers four free case studies over a variety of topics and Codewars has hundreds of challenges to prepare for technical interviews.
Salary Negotiation for Women
AAUW is committed to eliminating the gender pay gay by 2030. This free 1 hour online course will give you the skills and confidence you need to successfully negotiate your salary and benefits (You will need to create an account).
Salary Calculators
Begin a highly customized salary search using the NACE salary calculator, Payscale.com, or Salary.com.

LinkedIn Jobs
LinkedIn's completely redesigned job search experience. Includes a job details page with rich insights into how students relate to jobs and preview the teams they could work with, and new jobs homepage with highly customized recommendations and content from their publishing ecosystem including influencers, members, and news publishers. Join the Career & Professional Development LinkedIn Group to stay informed about job opportunities for Gonzaga students, alumni, family, and friends.
Suggested 4 Year Career Development Plan
Senior Year Career Discernment
An iZag Radio podcast on career discernment.